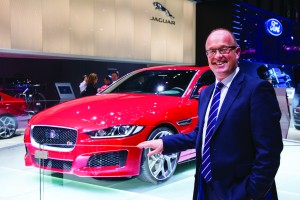 JEREMY HICKS, the MD of Jaguar Land Rover, agrees with the SMMT: it's time to stop the demonisation of diesel.
Car Dealer Magazine caught up with Hicks at the Geneva Motor Show.
He gave us a great insight into the future of JLR, and what it means for dealers – and you can read all about it in the next edition of the magazine.

But we asked him that, if he became transport minister for a day, what would be his priority.
He didn't need asking twice.
'The first thing I'd do is ensure we have harmonised taxes for petrol and diesel,' he said.
'We have seen a real demonisation of diesel. Diesel is not bad.

'If you look at the new Euro-6 diesels, we now capture 99.9 per cent of all particulates – it's like Dettol, killing 99 per cent of all known germs.
'Look at it from the consumer point of view. Why do they buy diesels? They buy them because they're big lovers of CO2 and they deliver good levels of fuel economy. So why is this backchat going on that diesel is bad and petrol is good? I don't get it. They are both equally good.
'The improvements we have all made have been quite significant, and the government should get behind supporting the industry and delivering this.'
MORE: SMMT hitting back over diesel