YOU CAN now download the latest edition of Car Dealer Magazine to your iPad – and it won't cost you a bean!
September's issue is our Fully Charged edition, which takes an in-depth look at whether or not the industry will be ready for 2040 – when sales of new all-petrol and all-diesel vehicles will no longer be allowed in the UK.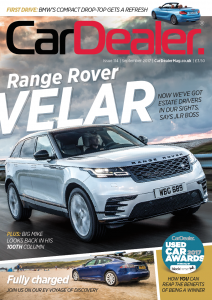 It's a milestone edition, too, because our popular contributor Big Mike notches up his 100th column! Join him as he looks back on how things have changed over that time.

Elsewhere, we put the BMW 2 Series Convertible, pictured above, Range Rover Velar and Hyundai i30 Tourer to the test, we've got more invaluable advice from those legal eagles at Lawgistics, and we bring you all sorts of dealer news not only from around the UK but from across the globe – we've even got a rather risqué Confession!
Winners of some of our prestigious Used Car Awards last year tell what a difference it's made to their business – and there's still time to nominate yourself or somebody else for this year's awards.
There are crucial market insights in issue 114, plus the fifth instalment of our series So You Wanna Be A Car Dealer?
As well as news, there are views as well. Make sure you check out our columnists Darren Greenyer, James Litton, Simon Henstock and Ben Garside – they've always got something interesting and worthwhile to share.

MORE: PM hails Aston Martin's proposed £500m trade deal with Japan
MORE: Car salesman goes missing in Barbados
MORE: Scrappage schemes keep on coming as more manufacturers join the fray
On SuperUnleaded.com: 10 things less complicated than Audi's new naming system