THOSE scrappage schemes keep on coming…
Volkswagen, Renault, Kia and Toyota were among the manufacturers to reveal new programmes today, following in the footsteps of carmakers such as Ford and Hyundai.
Volkswagen's scheme is applicable to any diesel VW that complies with pre-Euro 51 emissions legislation and which was registered before 2010.

Owners are able to trade in the vehicle to benefit from incentives – ranging from £1,800 to £6,000 – against the majority of new models if the new car is ordered by December 31, 2017. The trade-in vehicle needs to have been owned by the customer for at least six months.
All new Volkswagen petrol and diesel cars meet the latest Euro 6 emissions standards. Furthermore, results of emissions tests by Emissions Analytics and the Consumers' Association have current Volkswagen products among the lowest emitters of NOx.3
Meanwhile, the marque's plug-in hybrid and fully electric models are leading players in the EV world.
Alison Jones, director of Volkswagen UK, said: 'There's never been a better time to step up from an older diesel into one of our new, lower-emission Volkswagens.

'And it's not just buyers of our latest Euro 6 petrol and diesel cars who could benefit.
Similar schemes
'The incentives offered on our class-leading range of plug-in hybrid and full electric cars are particularly eye-catching.'
The other manufacturers in the VW stable – Seat, Skoda and Audi – announced similar schemes today.
Meanwhile, Renault's programme allows customers to benefit from an allowance of between £3,000 and £7,000, including scrappage support, towards the purchase of a new car or van.
Customers will still benefit from Renault's generous customer offers of either 4.9 per cent APR (for PCP deals) or 0 per cent APR (hire purchase) along with two years' free servicing on cars.
With the all-electric Renault Zoe, customers already benefit from a £5,000 allowance towards the purchase price.
The scrappage part-exchange must be Euro 4 standard or older, have been registered by December 31, 2009 and owned in the customer's name for more than 90 days. Vehicles part-exchanged under this scheme will be permanently destroyed.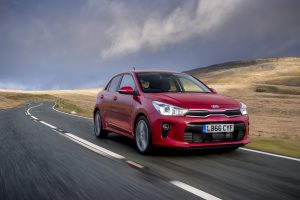 Kia's scheme is worth £2,000 to motorists wanting to switch from a car over seven years old – echoing Kia's industry-leading warranty – for an all-new Picanto or an all-new Rio, which are the brand's low-emission models.
Available immediately at all Kia dealers, the scheme guarantees the scrappage bonus on Kia's latest small cars when any old car is traded in for destruction. The bonus is in lieu of all other offers and applies to retail sales only.
Paul Philpott, Kia's president and chief executive, said: 'A number of scrappage schemes – many applying only to bigger models with higher emission levels – have been launched recently, but the Kia seven-year switch scrappage scheme is simple and easy to understand.
'It applies to all versions of the low-emission Picanto and Rio ranges and is guaranteed as long as the buyer of the new car is also the owner of the car being scrapped.'
Customers qualifying for Toyota's scheme, which runs until December 31, can enjoy savings of up to £4,000 on a new vehicle. It applies to any vehicle more than seven years old, in customer ownership for a minimum of six months and covers almost the entire Toyota passenger car and light commercial range, from the Aygo city car to Land Cruiser and Hilux.
Toyota GB president and managing director Paul Van der Burgh said: 'Everyone who takes up our scrappage scheme can be assured their vehicle will be disposed of in an environmentally responsible fashion that maximises recycling opportunities.'
The schemes have been broadly welcomed. AA president Edmund King said: 'The vast majority of drivers care about air quality and support scrappage schemes to encourage the take-up of cleaner, greener vehicles.
'Whilst we had also encouraged the government to promote a scrappage scheme, we are delighted that major manufacturers have taken the lead to promote their own schemes.'
MORE: Lookers opens its second outlet operation
MORE: MG to open concept store in Cardiff
MORE: Recharging the batteries
On SuperUnleaded.com: Here's why you don't use launch control in a car park