LOOKERS has opened its second 'Lookers Outlet' site in Motherwell as it pushes ahead with the nationwide rollout of its newest brand concept.
Lookers Outlet Motherwell sits next to the retailer's Nissan and Hyundai dealerships on Windmillhill Street and follows the successful launch of a Lookers Outlet in Gateshead.
The opening weekend, which starts tomorrow (September 1), will welcome visitors by offering a wide selection of used cars from various brands, as well as the chance to win prizes.

Lookers Outlet is not a used car supermarket concept and provides customers with the same suite of aftercare provision afforded to its franchised dealership customers, including extended warranty.
Cars at Lookers Outlet must have:
– Maximum 50,000 miles;
– Maximum five years old;

– Maximum two previous owners;
– No hidden fees;
– Prices starting from £3,995.
All Lookers used cars come with a Lookers Approved care package, which includes accident cover, a 12-month warranty and a quality assurance mark.
All pricing is transparent with finance options available and customers purchasing over the opening weekend will also be given an additional year's warranty on any used cars bought.
Customers will also get the chance to win a range of spot prizes over the weekend.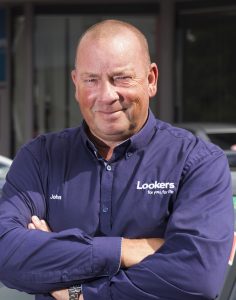 John Gavin, pictured, general manager at Lookers Nissan and Hyundai Motherwell, said: 'We're always listening to our customers, which is why we're launching Lookers Outlet Motherwell. It will provide the very best used cars at more affordable prices. I'm looking forward to welcoming customers to see our range of offers.
'There really is something for everyone with the selection we will have available at the site.'
Colin Pybus, franchise director for Lookers Volume Division, which includes Nissan and Hyundai, among others, said: 'The introduction of Lookers Outlet to our business is a welcome one.
'It is wonderful that we are now able to offer a wider range of the very best used cars in our stock, all at affordable prices.
'The standard of cars available in our outlet is excellent and I am confident that it will be a great success.'
MORE: UK car market is 'softening' says Lookers as it publishes results
MORE: New Skoda showroom opens after investment of over £1m
MORE: Lookers aims to raise £1m for Children in Need
On SuperUnleaded.com: Bentley unveils the latest Continental GT – and it's a stunner