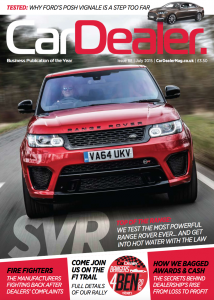 THE latest issue of Car Dealer Magazine – which has a review of the most powerful Range Rover EVER – is ready to be downloaded to your iPad FREE of charge.
Issue 88 of the Best Business Publication of the Year is packed with not-to-be-missed features, plus the very latest news and views from the automotive industry.
We speak exclusively to Jaguar Land Rover about their plans for the Special Vehicle Operations unit, and test the Range Rover Sport SVR in New York (yes, we treat our reporters badly here. They got to drive the new all-wheel-drive Jaguar F-Type, too. Not a bad gig…). Oh, and they ran into trouble with the American police in the process….

Also in issue 88:
We take a look at Ford's posh new Mondeo Vignale. Is it as good as it's hyped up to be?
James Baggott takes the i8 for a drive. And he LOVED that…
We take a look at this year's Bangers4Ben and Used Car Awards.
We ask the suits at Peugeot and Citroen why their dealers ranked so badly in our Power Awards. And they gave us some very straight answers…
And we look at what goes on behind the scenes at an award-winning dealership. Take a bow Devonshire Motors…
With the usual entertaining mix of news, views and features – plus another invaluable helping of legal advice from our friends at Lawgistics – issue 88 of Car Dealer is not to be missed!
The iPad app is completely FREE to download and subscribe to.