ENDEAVOUR Automotive has opened its all-new flagship Hyundai dealership in north London.
The motor group said the continued upward trend for Hyundai sales was a driving factor in its decision to relocate the showroom from Hendon to a new two-storey solus site in New Southgate.
The manufacturer enjoyed a first-quarter tally of 28,004 units, representing growth of 0.5 per cent in challenging market conditions, while the new Kona small SUV secured a 4.6 per cent retail share of its segment in its first full quarter.

The new North London site boasts more than 1,000 square metres of display space including a 16-car showroom. It also features Hyundai UK's first indoor used car display area in London – capable of holding 34 cars – on the building's first floor.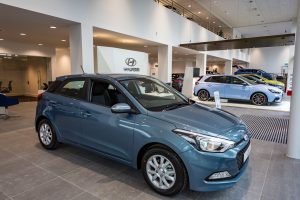 Staff numbers have increased by more than 20 per cent to 42 in anticipation of greater sales volumes, and Endeavour says it has already seen a high level of interest in the Ioniq – the world's first car available with three distinct powertrains, which is spearheading Hyundai's new generation of eco-friendly cars.
John Caney, chief executive of Endeavour Automotive, said: 'We are delighted to have welcomed our first customers in to our incredible new Hyundai North London dealership.
'It's a development that the whole team can be proud of, with refreshing open spaces and modern furnishings that will complement the highest standards of customer service from our staff. The two-storey site is a landmark for Endeavour and Hyundai, and we look forward to achieving ever-greater success together.'

Beyond the enhancements to new and used cars sales, the new Hyundai North London site also features a state-of-the-art 10-bay workshop incorporating dedicated MOT, tyre-fitting and wheel-alignment stations. In addition, there is integrated space for car care, with two dedicated valet bays plus a wet-wash area.
Tony Whitehorn, president and chief executive of Hyundai Motor UK, said: "It is great to see Endeavour Automotive's investment in this new flagship site, which will enable them to take full advantage of the ever-increasing interest from retail and fleet buyers alike in our strong range of vehicles that offer high quality, style and value.'
Endeavour Automotive was formed in August 2012 by Caney, former managing director of the Wayside Group, and has 10 dealerships across London, Buckinghamshire, Hertfordshire and Essex.
MORE: Endeavour takes over flagship Hyundai London site
MORE: Endeavour acquires Haddocks Hyundai
MORE: Endeavour celebrates fifth anniversary
On WorkshopMagazine.co.uk: Mark's the brightest spark as salesman for NGK