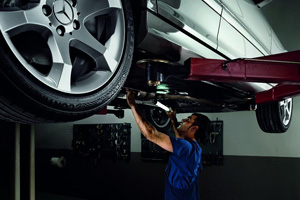 MORE than half of Brits are putting themselves at risk of road accidents by regularly put off car maintenance, a survey has revealed.
The survey, commissioned by Evans Halshaw, found that 52 per cent of people typically put off car maintenance, despite the two-thirds (65 per cent) believing that delaying vehicle upkeep leaves them at a higher risk of having an accident.
It was found that women are more likely than men to put off maintenance, with 56 per cent of women and 47 per cent of men admitting to delaying car care.

The cost of getting work done was the most commonly cited reason for putting off maintenance (62 per cent). The hassle of having to fit getting to a garage in around other commitments was an issue for 47 per cent of respondents; finding a trustworthy mechanic and the worry about not having a car while it's in the garage were also common problems (32 per cent and 24 per cent respectively).
The 'hassle' of finding time to book their car into a garage is a bigger issue for people aged 18-24 than it is for it is for any other age demographic.
Three-quarters (75 per cent) of those aged 65 and over said cost was a barrier to carrying out car maintenance. The oldest demographic also seems to have the biggest concern about finding a trustworthy mechanic, with the 40 per cent of this age group citing this as a reason for putting off car maintenance.
Despite these concerns of cost and trust, drivers aged 65 and over are the least likely to put off car maintenance: only 22 per cent of respondents in the age bracket said they typically put it off. In contrast, young drivers are the most likely to put it off, with 68 per cent of 18 to 24-year-olds and 69 per cent of 25 to 34-year-olds saying so.

Emma Pochin, aftersales marketing leader at Evans Halshaw, said: 'For lots of people their car is such an important part of daily routine, so it's sometimes easy to take it for granted, but regular maintenance is important for safety and to prevent breakdowns.
'We find many of our customers are now taking our pay monthly service plan – it's interest free and an easier way to spread their servicing costs rather than pay for it all in one go.
'We also find customers like the flexibility of being able to make a booking online – they can check the cost, find their nearest dealer, arrange any extras such as courtesy cars and confirm an appointment time – so it's about making things as easy as possible for the customer.'