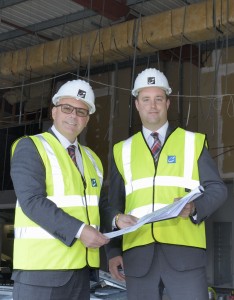 WESSEX Garages in Newport will be joining the Renault and Dacia franchise with the opening of a new hi-tech dealership in the city – creating up to 12 jobs. 
The expanding car company will open a purpose-built 3,831 sq ft Renault and Dacia showroom in August alongside its current Kia, Fiat and Hyundai outlets at Newport Retail Park.
Keith Brock, managing director of Wessex Garages, which also has dealerships in Bristol, Cardiff and Gloucester, said: 'We are extremely proud to be a part of Renault and Dacia's expanding dealer network.

'It is an exciting time not only for Renault and Dacia but for us too as we have seen sales across all of our dealerships increase over the past 12 months.
'Our new £500,000 refurbed, hi-tech dealership will look absolutely fantastic. It will be modern and fully interactive, catering to customers' needs and enhancing their experience.
'People will be able to watch videos about the cars and services available and can make use of a digital lounge, including free wi-fi, to help them select the perfect new car for them. It will be a relaxed environment where customers can make their own choices.
'Renault and Dacia's range of cars is the best it has ever been and there are lots more exciting models to come in the future. I am looking forward to a successful partnership with the brand and hope the Newport showroom is the first of many.'

The showroom, which will be among the first in the country to offer the Renault Store Retail concept, will be divided into zones, making it easier for customers to learn about the range.
These include the 'Passion Zone' displaying key models, 'ZE Zone', which focuses on Renault's zero emissions product line and the 'Sport Zone', highlighting Renault's expertise in auto racing. An interactive 'Configurator Wall' will introduce customers to the full range of colour possibilities.
Darren Payne, sales director at Renault Group UK, said: 'We are delighted to have a successful and well-established dealership like Wessex Garages join the Renault Group UK network and strengthen our presence in South Wales with their fantastic new showroom.'
Wessex Garages is a privately owned company that has outlets in Bristol, Cardiff, Gloucester and Newport. It specialises in new and used car sales across South Wales and the South West.
Our picture shows Keith Brock, managing director at Wessex Garages, and Darren Lakin, regional aftersales manager at Wessex Garages, with the plans for the new Renault and Dacia showroom.
MORE: Motorline Group supports local hospices with donations totalling £30,000
MORE: Honda brand welcomed to Evans Halshaw with opening of new Bedford site
MORE: New Fiat 500 pricing and spec announced
On SuperUnleaded.com: Possibly the ugliest supercar ever is coming to the UK