LEADING luxury dealer group H.R. Owen brought central London to a standstill by assembling 70 Ferraris in the heart of the city to commemorate the manufacturer's 70th birthday.
In one of the largest Ferrari gatherings ever to grace the capital's streets, H.R. Owen Ferrari customer cars descended on Waterloo Place in waves before lining up and wowing enthusiasts in the capital.
Everything from the from the 550 Maranello, F12 Berlinetta and 458 Italia to the new GTC4 Lusso was on display.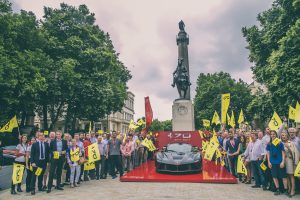 Taking centre stage at the event on its own podium was a special LaFerrari Aperta, which brought about plenty of attention from members of the public and owners alike. It was also the star attraction during the day's main photoshoot, as H.R. Owen Ferrari customers came together to celebrate.
Another model turning plenty of heads besides the H.R. Owen umbrella was an ultra-rare Zagato Ferrari 550 GTZ Barchetta, of which only a handful have ever been manufactured.
H.R. Owen had a treat in store for its 70 customers when the event came to a close.
After lining up and wowing visitors to the iconic London street, cars convoyed to Buckinghamshire and Hedsor House to enjoy champagne, canapes and a barbecue in the picturesque grounds.

H.R. Owen Ferrari marketing manager Owen Rothwell said: 'In an extra-special year for Ferrari, H.R. Owen is pulling out all the stops to ensure this fabulous brand enjoys worthwhile celebrations – and the Waterloo Place event really got things going in style.
'We had some truly amazing models lining up for media, members of the public and enthusiasts to see.'
MORE: New managing director appointed at Cap HPI
MORE: Volvo and Geely get together to move ahead on EV technology
MORE: Used market on track for a record year
On SuperUnleaded.com: This is why you failed your driving test first time