What is it?
The 500X was a bit of a revolution for Fiat when it was first launched, as the manufacturer took a car famous for being small and made it big. It was a winning formula that already worked for Mini, and second time around, Fiat is hoping customers will love the new and improved version just as much. This crossover has enough space for a young family, with five seats and a 350-litre capacity boot, which can be increased by flattening the rear seats. Boasting a range of tech on board, this is a practical and versatile car that also wins in the style stakes.
What's new?
You'd be forgiven for struggling to spot the differences between the old and new 500X – the changes are very subtle, but Fiat reassures us they make a world of difference. The exterior design has been given a refreshed look, building on what was most popular from the previous generation. One of the most noticeable new features is the LED headlights, which drastically improve visibility. New and more efficient turbocharged petrol engines have also been added to the range, and an improved HD touchscreen with Apple CarPlay and Android Auto come as standard.
What's under the bonnet?
There are two styles of 500X, which are available with three engine choices combined. The entry-level Urban Look gets one 1.6-litre petrol engine, with 108bhp, while the Cross Look is available with Fiat's latest turbocharged petrol engines – a one-litre with 118bhp or a 1.3-litre (148bhp).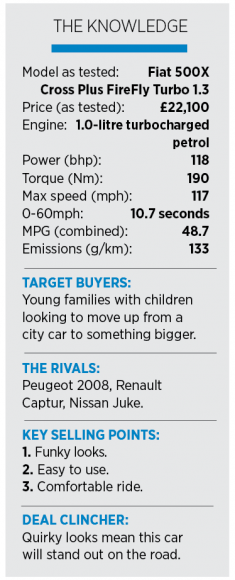 Both offer a great combination of performance and economy, as the smaller engine is capable of 0-60mph in just under 11 seconds and will achieve between 35mpg around town and 55mpg on rural roads. However, the 1.3 can hit 60mph in nine seconds, has a top speed of 124mph, and has better urban economy at 38mpg but slightly lower rural economy at 47.9mpg.
Both are in the same car tax band too, currently costing £205 in the first year and £140 from then on.
What's it like to drive?
Although there are plenty of positives on the economy side, the driving dynamics won't set your world on fire. It's quick to respond, though, and handles corners well.
The six-speed manual in our test car still felt a little toy-like thanks to that spherical, plastic gear knob but it was pretty smooth to use. The high ride height gives you a great command of the road, and although it's much wider than the standard 500, it still feels compact and manageable from inside.

How does it look?
The changes to the exterior design might not be obviously apparent to the untrained eye but those careful updates have, Fiat says, made a world of difference – particularly the LED headlights, which really make the 500X stand out on the road. Importantly, it's kept those key style cues from the original 500 that car buyers just love.
Overall, it looks more modern and those subtle tweaks, particularly around the bumper, have given it a much more imposing look for 2018.
The Cross Look – expected to be the more popular choice – adds rugged black bumpers, while the Urban Look has a sleeker overall appearance.
What's it like inside?
The interior has also been subtly updated. The most important update is the infotainment screen with the latest Fiat Uconnect system, also available with Android Auto and Apple CarPlay integrated. The overall look of the interior hasn't changed dramatically but the stylish Italian design and original Fiat 500 influences continue inside. Fun and funky are the watchwords.
What's the spec like?
Fiat has reinvented its line-up of specifications for the new 500X.
As previously mentioned, there are now two body styles, Urban Look and Cross Look, but there are also three trim levels: Urban, City Cross and Cross Plus.
Prices start at £16,995 for the Urban, £18,995 for the City Cross and £20,995 for the Cross Plus. Safety and driver assistance technology have been improved too, and the 500X is now available with traffic sign recognition, intelligent speed assist, lane assist, blind spot alert and city brake control.
What do the press think?
Auto Express said: 'No amount of new features can change the fact that the 500X remains a car you buy with your heart rather than your head.' Automotive Blog said: 'The updated Fiat 500X is a distinctive, well-equipped choice in the incredibly competitive compact crossover sector.'
What do we think?
Fiat hasn't forgotten any of the key factors that first made the 500X great when freshening it for this latest model. It's got great style, stand-out looks and now a range of economic engines that'll keep drivers happy. While it faces tough competition, its price point and iconic name will help it stand out to buyers.