What is it?
Your customers could be forgiven for not knowing that much about Infiniti. Launched in the UK less than 10 years ago, the Japanese luxury brand is still attempting to establish itself as an alternative to the German trio. This is the firm's latest attempt to change that – a mid-size SUV that aims to tempt buyers away from the likes of a BMW X3 or Audi Q5.
With the QX50's host of smart technology, a distinctive design and a bafflingly clever new engine, Infiniti is hoping it will rapidly become the brand's best-selling car worldwide.
What's new?
Built on a brand-new platform, the QX50 debuts a number of world-first gadgets. These include dynamic noise-cancelling technology in the engine, seats which have been designed in conjunction with Nasa and a petrol engine that promises to offer sports levels of performance, but with the economy of a diesel.

What's under the bonnet?
That clever new VC-Turbo engine is a world-first variable compression ratio engine. For the non-technically minded, that means it offers the power of a 2.0-litre turbo petrol with the torque and efficiency of a four-cylinder diesel. Currently there are no plans to offer a diesel engine.
On our early pre-production drive in America, Infiniti wouldn't reveal how efficient its new engine is. No UK fuel economy figures or emissions details were released as it has yet to be type-approved for Europe. With this in mind, we'll take the brand's claims with a pinch of salt.
What we do know is the 2.0-litre engine produces 268bhp and 380Nm of torque. A petrol BMW X3 20i offers 184bhp and 290Nm, so it seems the QX50 has quite the upper hand.
What's it like to drive?
This clever new engine generates impressive, usable performance. It'll hit 60mph in 6.3 seconds – and will go on to a top speed of 143mph. The noise it makes while doing so is an acquired taste.

Much of it is synthetically generated and it teeters on the edge of deeply satisfying and incredibly annoying. There's also a CVT automatic gearbox, which is fine at sedate speeds but becomes irritatingly audible in the higher rev ranges. Sadly, Infiniti is persisting with its drive-by-wire steering, which came in for much criticism on its Q50 saloon and is little better here.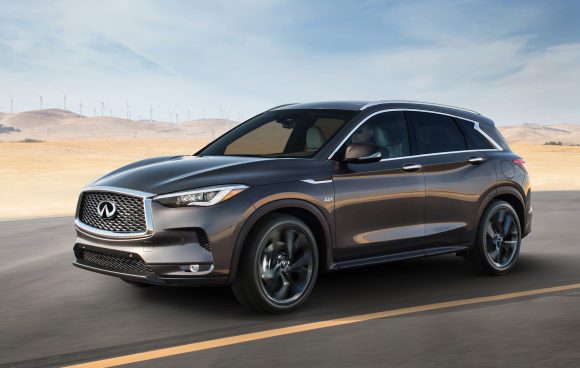 The QX50's new chassis and ground-up design has certainly resulted in a pleasing ride, however. It soaked up the worst that America's crevice-like roads threw at it, and thanks to a dynamic noise-cancelling engine mount – which works to stop noise entering the cabin – it's calm inside too. What's more, it can even drive itself – up to a point.
Hit the car's ProPilot button and it'll steer for you (but you'll need to keep a hand on the wheel), speeding up and slowing down with traffic. And there's a Forward Collision Warning system, which bounces radar around and under cars in front to spot traffic slowing down before you do. Infiniti says it can even detect a slowing motorbike hidden in front of an HGV.
How does it look?
Looks-wise, it's certainly a break from the status quo. While BMW's X3 has been labelled 'boring' and Audi's Q5 'generic', the QX50 has a welcome and genuinely different design. What's also pleasing is the fact that the frankly quite hard-on-the-eye look of Infiniti SUVs of the past has been toned down.
What's it like inside?
Inside is where the QX50 really shines. Hand-stitched leather panels, alcantara and a swooping dash give it a luxury feel, and although some of the switchgear is obviously borrowed from the Renault Nissan Alliance, it's far better packaged than early Infiniti models.
What's the spec like?
The QX50 is a while off arriving on our shores so, as such, Infiniti is remaining tight-lipped about specification and pricing. Executives did tell us that it would undercut BMW and Audi rivals, and it's likely much of the new technology will be included as standard. The QX50 is slated to arrive either late this year or very early in 2019.
What do we think?
Infiniti believes the QX50 is the best car it's ever made – and we'd find it hard to argue with that. The clever new VC-Turbo engine is impressive, the ride quality and interior finish excellent and we even like the looks. Quite how Brits will react to a petrol-powered SUV with no diesel option remains to be seen, though, and its success will hinge on just how much it undercuts established German rivals.