THE FORD Fiesta has placed at the top of the monthly best-selling cars list for the first time since the new model was launched.
The sixth-generation Fiesta had long been the best-selling car in the UK up until May 2017, when sales dropped owing to that model being phased out as Ford prepared to launch a new version.
Fortunately for the Blue Oval, the release of the seventh-generation Fiesta seems to have gone according to plan, and the updated model topped the SMMT's new-car registrations list for October 2017.

In total, 7,256 new Fiestas were registered in October, putting Ford's popular hatchback miles ahead of the Volkswagen Golf, which came second with 5,547 new units sold.
Ford also secured third place in the list, with the Focus seeing 4,503 new examples registered, and 10th place, as 2,493 new Kugas were also sold.
In year-to-date figures, the Fiesta remains at the top, with 83,070 new units registered in the first 10 months of 2017. The Golf placed second in this table with 62,565 units sold, and the Focus kept third position with 62,029 examples registered.
The Nissan Qashqai, which was the UK's best seller in September, slipped to fourth place with 3,923 registrations.

The remaining top 10 cars for October were the Mercedes-Benz A-Class (3,390 registrations), Kia Sportage (2,850), Audi A3 (2,764), Volkswagen Polo (2,703) and the BMW 4 Series (2,558).
You can view the full SMMT registration figures for October and for 2017 so far in the table below.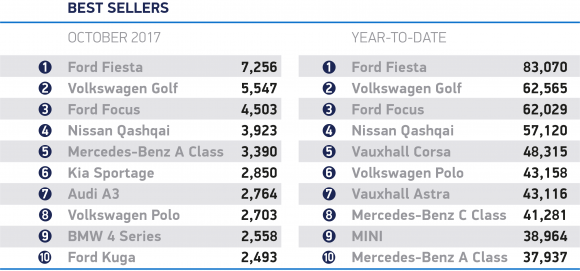 MORE: SMMT revises registration prediction for 2017 to only 2.6 million cars
MORE: Car production declined in August, says SMMT
MORE: SMMT admits getting figures wrong over used car sales fall
On SuperUnleaded.com: Take your Ford Focus RS sideways with the new 'Drift Stick'