It's come a long way since the old Papa and Nicole days. Laura Thomson tests the latest version of the French supermini
What is it?
This is the facelift of Renault's fourth-generation Clio, which was launched back in 2012. Now in its 25th year, the Clio has matured significantly, with the French carmaker introducing a host of new styling and design cues, alongside a new diesel powertrain – the 1.5-litre dCi 110 – and the option of the pre-existing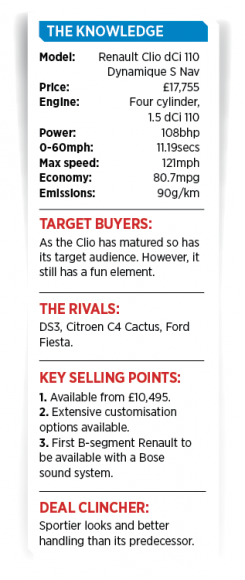 TCe 120 petrol engine with a manual transmission. On the exterior a new grille, re-profiled bumpers and a cleverly designed LED light signature feature, while C-shaped daytime running lights can also be specified. Cabin quality has improved greatly.
What's under the bonnet?
We tested a car equipped with the new diesel powertrain coupled with a six-speed manual gearbox. The poky unit produces 108bhp, more than enough to propel the 1204kg B-segment model around, while a spread of torque across the rev range means it can accelerate with ease 
in any gear. The typical diesel 
engine rattle is particularly noticeable when the car is idle or moving slowly, but fades to an indistinct hum in the intermittent period to 3,000 revs. The dCi 110 returns an impressive 80.7mpg, while emitting just 90g/km CO2.
What's the spec like?
The new diesel engine is only available in the top-level Dynamique S Nav trim, and while its host of standard spec – including a Bose sound system and the new R-link connectivity system – make the almost-£18,000 price tag worthwhile, drivers looking to spend less are unable to benefit from the new powertrain. However, the basic-trim Clio starts from £10,495, meaning the range includes both affordable and high-end (for the B-segment) options.
What's it like to drive?
New polyurethane suspension bump stops and a quicker steering rack give the car improved agility and body control, but not enough to make the drive markedly different to that of its predecessor. The stop/start feature, which comes as standard on a number of the Clio grades, is easy to get along with. A driver-activated Ecomode, which is standard on the Dynamique Nav model and above, can reportedly improve fuel economy by up to 12 per cent.
What do the press think?
Auto Express writes: 'The Clio is a freshly styled alternative to its supermini rivals, offering plenty of kit and efficient engines.'
What do we think?
As promised by Renault, the Clio is now much more mature and versatile than ever before. This facelift refreshes the product in order to keep up with its constantly improving competitors. The car is sure to remain popular.