With bags of space and lots of kit, you'd think SsangYong would have a hit on their hands. What does James Fossdyke reckon?
What is it?
SsangYong's latest model is the world's first B-segment SUV estate. As a result, it's short of direct rivals, yet it's aiming to take sales away from a broad range of cars. The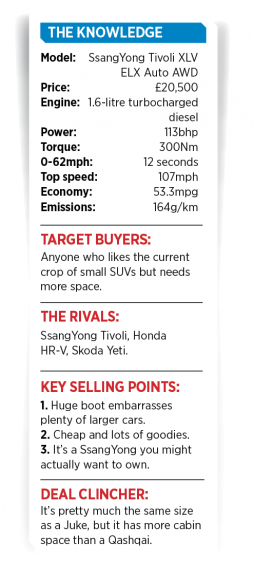 Honda HR-V, Nissan Juke, and Skoda Yeti are all in its sights along with its own stablemate – the Tivoli. No, that isn't a misprint – SsangYong admits a fair number of XLV customers will simply buy it because its 720-litre boot is almost 300 litres larger than that of the Tivoli.
What's under the bonnet?
Engine choices are limited – you can have a 113bhp 1.6-litre diesel engine or nothing – but you do get a small range of transmissions to choose from. A six-speed manual gearbox with front-wheel drive is the entry-level combination, while a six-speed automatic is also available. No matter which you choose, you'll still have the option of upgrading to a clever four-wheel-drive system.

What's the spec like?
As the vast majority of standard Tivoli sales are accounted for by the top-spec ELX model, that's the only trim level the XLV is offered with. Prices start from £18,250 and rise to £20,500, which is a substantial chunk of money, but you're left wanting for nothing. Leather seats, keyless start, two-zone climate control, 18-inch alloys, a seven-inch touchscreen infotainment system, a reversing camera… the list goes on.
What's it like to drive?
Not so different from the standard Tivoli. The torquey diesel engine is still grumbly and unrefined, and there's still quite a lot of tyre noise at speed, but it's otherwise perfectly reasonable. It stays surprisingly upright through the corners, and though the front-drive car is a tad jarring over the bumps, the all-wheel-drive version's multi-link rear suspension makes it more than comfortable enough. Despite the impressive body control, though, this is no driver's car. There's next to no feel through the steering wheel, even in the weightiest of its three modes, and braking is a question of guessing how much force you need.
What do the press think?
Autocar said: 'It is impossible to ignore the fact that, spec-for-spec, the XLV is considerably cheaper to buy than any Qashqai, Yeti or Kadjar, yet it will carry more luggage and is every bit as roomy inside.' Car said: 'The Tivoli offered great value for money, a fuss-free drive and a well-built interior. Add the XLV's improved practicality and you've got a seriously compelling package.'
What do we think?
SsangYong has a genuinely reasonable car on its hands, but despite the sensible asking price, spacious interior and huge kit list, most of those looking for a roomy SUV will still go elsewhere.