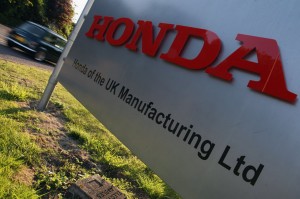 HONDA has reiterated its commitment to the UK by telling Car Dealer it has no plans to shut its plant in Swindon.
There were fresh concerns surrounding the future of the plant after it was revealed Honda scraped a profit of only £1 million on sales of £2bn last year.
The factory sold 133,600 vehicles in the year ending March 2014, down 20 per cent on the previous 12 months

According to the Sunday Times, an industry insider claims the manufacturer is struggling to sell Civics and is in need of new models to make the plant viable. Sales of the petrol-engined Civic fell from 57,000 units to just 21,000 last year.
In March, the plant announced the shutdown of one of the two production lines, resulting in 500 jobs lost.
Despite the UK car manufacturing industry going from strength to strength in 2014, Honda has seen a drop in demand across Europe. This resulted in a reduction of its workforce to 3,000 employees, who now produce 150,000 cars instead of 250,000.
But today, Senior Vice President of Honda Motor Europe Ian Howells told Car Dealer the manufacturer remains committed to Swindon, and that there are no plans to shut the plant, as it did for four months in 2009.

He said: 'Honda remains absolutely committed to producing cars at Swindon for the long term. Since 2011, Honda has invested more than £250 million in the plant and in the past year, further significant investments, as we have introduced production of the all-new Civic Tourer.
'We are also preparing to start producing new variants of the Civic and CR-V in January 2015. Furthermore, in mid-2015, we will start production of the long-awaited Civic Type R.
'Following the industry-wide long-term reduction in European sales, in March 2014, Honda announced it would be moving all production on to one line (with Line 2 standing idle while sales volumes remain at their current level). This ensures our production volumes are in line with anticipated sales volumes. Furthermore, this gives the business a much sounder financial foundation for the future.'
MORE: Huge investment in Seat dealers after disastrous customer survey results
MORE: Two millionth Qashqai rolls off production line at Sunderland
MORE: Honda dealers retain the most routine servicing for eighth year running