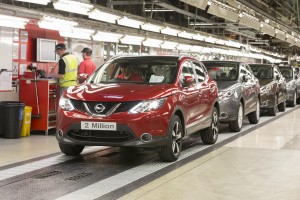 THE two millionth Qashqai has rolled off the production line at Nissan's factory in Sunderland.
The car has reached its latest manufacturing milestone quicker than any other model in the history of the UK car industry.
Designed, engineered and built in Nissan's UK facilities for European customers, this latest landmark caps a remarkable 2014 for the Qashqai, with January's launch of the new generation model sparking a string of accolades including What Car? magazine's coveted Car of the Year.

Paul Willcox, chairman, Nissan Europe, said: 'The Qashqai is helping Nissan to go from strength to strength in Europe. Two million customers can't be wrong. This is further evidence of their trust in our brand. Thank you to all of our loyal customers and I congratulate all my colleagues in Sunderland for reaching this latest milestone.
'The Qashqai is one of 12 new models we have launched in the past 12 months in Europe, which has given Nissan the strongest and most cohesive line-up in our history.'
The two millionth Qashqai to roll off the production line was a magnetic red model in the new n-tec grade which is destined for a UK customer. Introduced last month, the new grade includes unique new styling features as well as a range of Nissan Safety Shield technologies.
Nissan has invested £534 million in the design, development and production of Qashqai in the UK, supporting more than 11,000 jobs in the UK car industry. Of the two million Qashqais made in Sunderland since December 2006, 85 per cent (1,706,633) have been exported to 132 international markets, from the Congo to Qatar.

MORE: Nissan creates the world's biggest zorb – with a car in it!
MORE: Nissan GB boss tells dealers to focus on used cars and aftersales