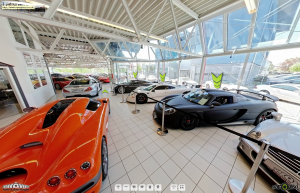 A SUPERCAR dealer in Germany has found a rather unique way of getting customers into its showroom – albeit not in the way you might expect.
The Auto Salon, based in Singen, Germany, has launched a Google Streetview-like service that allows customers – and indeed the general public – to have a good snoop around some of the cars on show.
Virtual visitors can tour right around the outside of the showroom, where they'll see countless Aston Martin, Porsche, Rolls Royce and AMG Mercedes models lined up and sparkling in the German sun.

Head inside and things really get interesting, though. Seperated off into three different sections, the showroom arguably has one of the world's most expensive – and diverse – collections of prestige metal around.
There you'll find a whole host of modern metal – ranging from the sublime to the extremely rare, with cars like the Mercedes CLK GTR and Porsche Carrera GT making appearances. There's also the obligatory Bugatti Veyron, of course.
It's not just modern metal on show, however: venture further in and you'll hit the showroom's vintage selection – which houses a Lamborghini Miura, a handful of svelte Jaguars and (appropriately for a German showroom) a great number of beautiful Mercedes-Benzes.
The premises also has one of the most diverse service bays we've ever seen – perhaps one of the few places in the world where you're likely to see the strikingly modern Ferrari 458 next to a James Dean-style Porsche Speedster.

We won't spoil the experience by listing every single one of the beautiful cars on show, but it's certainly worth a look if you've got a spare 10 minutes.
You can check out the showroom by clicking here.
Have you filled in our Car Dealer Power survey yet? It's a great opportunity to have your say, and you could win one of seven great prizes! Click here to enter.