AND they're off! The Bangers4Ben teams are setting off on the annual charity rally across Europe today – the event that's raised hundreds of thousands of pounds for the automotive good cause over the years.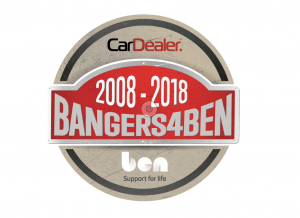 There was great excitement as the teams assembled at Brooklands Motor Museum in Weybridge before making a run for the Channel Tunnel and France, where they'll be heading to Reims.
Tomorrow, they'll cross another border and drive into Germany before stopping for the night in the home of Porsche – Stuttgart.

Sunday will take them on some German autobahns as well as some more winding roads, then into Belgium, where they will stop for the night in Bruges. Day four will see the trippers heading to a secret location, to be revealed that morning.
There will be full coverage of the event in the December issue of Car Dealer.
Check out some of the top tweets so far as the teams gather in Surrey ready for the off….
Here's the @CarDealerMag team in the support car. Look out for @manderful and @believebecca who'll be tweeting from here and the @Bangers4BEN account! #B4B18 pic.twitter.com/ckQ5ejBXwQ

— Car Dealer Mag (@CarDealerMag) October 5, 2018
WE ARE AWAY!

The Clickers set off down south to meet up with part of the rally ahead of the start tomorrow. #Bangers4Ben #B4B18 pic.twitter.com/2B8Pu81yVY

— Click Dealer (@ClickDealerLTD) October 4, 2018
Brookland already to welcome #b4b18 @CarDealerMag @BenSupport4Auto @Bangers4BEN pic.twitter.com/66NcyxnUyq

— Ben Events (@BenEventsTeam) October 5, 2018
The bar has been raised on this year's #B4B18… @Bangers4BEN @CarDealerMag pic.twitter.com/LE5Z55UgsG

— Rebecca Chaplin (@believebecca) October 5, 2018
And they're off!🏁Our #B4B18 vans have set off on their rally round Europe for @Bangers4BEN with @RutlandPartners & @motonovofinance on board!😀4 days, 1,000 miles, 2 'Banger' vans! Keep checking in for live updates & show your support here! 🎉 https://t.co/rxhbcYSVpk pic.twitter.com/bzMPQzirgo

— Aston Barclay (@AstonAuctions) October 5, 2018
For the next 5 days I will be doing a #Bangers4Ben takeover over on @ClickDealerLTD's main Twitter account.

Stay tuned for regular updates on our banger adventure!

Get involved! #B4B18 #TwitterCarClub pic.twitter.com/6kiriHR0ER

— Joe Podmore Click Dealer (@JoePodClick) October 4, 2018
So here's our @Bangers4BEN beast and we're now on the way to meet up with everybody at Brooklands in Surrey. See you all very soon…#b4b18 @BenEventsTeam @CarDealerMag pic.twitter.com/x85dwkcEgV

— Car Quay Ltd (@carquayltd) October 5, 2018
People have upped their game on this years Bangers4ben!' #b4b18 @CarDealerMag @BenEventsTeam pic.twitter.com/eMWqx1LbYn

— Phil Harding (@PhilH_iVendi) October 4, 2018
Only on Bangers4ben do you end up with two other blokes in the ladies lingerie section at M&S!! #b4b18 @CarDealerMag @BenEventsTeam pic.twitter.com/aynxB5VHTR

— Phil Harding (@PhilH_iVendi) October 4, 2018
MORE: The weird and wonderful cars taking part