A MOBILE pub, a grazing cow, Noddy and Big Ears, a Batmobile, an Aixam Mega microcar, a Reliant three-wheeler and a stretch limo are among 37 weird and wonderful cars taking part in Bangers4Ben this weekend.
As regular readers will know, the annual event aims to raise money for the motor industry and allied trades benevolent fund Ben, which provides help and assistance to people in the automotive sector and their families at times of crisis.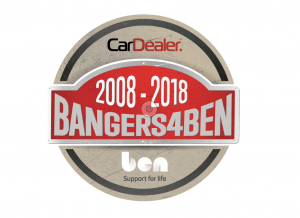 The armada of bangers set sail from the the famous banked curves at Brooklands Motor Racing Circuit near Weybridge, Surrey, on Friday October 5, with the first overnight stop planned for the historic French city of Reims, which also has a grand prix connection.
One team even took the bangers theme a bit further, taking along two Ford Transit vans that will be serving hot sausages throughout the event.
Organised by the team that brings you Car Dealer Magazine each month, Bangers4Ben is in its tenth year this year, and has raised more than £350,000 for the charity to date.
As well as sponsorship collected by the participating teams, many of whom work for motor trade-related companies, the cars will be sold at British Car Auctions' Blackbushe Centre later this month, with all the proceeds going to Ben.
Andy Entwistle, managing director of Blackball Media, publishers of Car Dealer, said: 'Bangers4Ben is one of the highlights of the year for a lot of our friends in the industry and is a great fun event, but there's a more serious side to it, too.
'Ben is a charity that means a lot to many of our readers, advertisers and event participants, and we're determined to smash through the £50,000 barrier with our 10th anniversary fundraising.'
The event finishes on Monday October 8, and followers can keep up with the antics of all the teams involved by following the social media hashtag #B4B18. A donations page has also been set up here.
MORE: Top tweets from Day One of Bangers4Ben
MORE: Click here to donate money and help raise funds