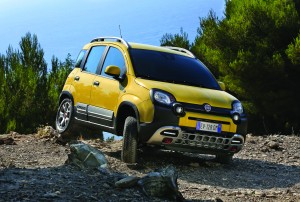 Italian firm thinks it has spotted a niche in the a-segment for a rough-and-tough 4×4. Danielle Bagnall has tried it for size.
WHAT IS IT?
It's the car that city lovers and those looking for practicality with design flair have been waiting for. Fiat believes it has seen a real niche in the market with the development of the Panda Cross, combining aesthetics, durability and capability in equal parts. But with a price tag starting from £15,945 it's £1,500 more than a Nissan Juke!


WHAT'S UNDER THE BONNET?
There are two engine options available in the Panda Cross: the 1.3-litre Multijet diesel unit and the 0.9-litre TwinAir petrol version. The diesel engine produces 80bhp and averages 60.1mpg with 125g/km of CO2 emissions, while the petrol option offers 89bhp with 57.7mpg and emits 114g/km.
WHAT'S THE SPEC LIKE?
Apart from the interior feeling slightly cheap compared with its rivals, the Panda Cross has a very unique feel – you get the looks of a pretty city car but also the capability of a fantastic off-roader. Redesigned bumpers to the front and rear mean it's protected on even the roughest terrain. Bluetooth, MP3, 15-inch alloy wheels, climate control, electric door mirrors and LED daytime running lights all come as standard.

WHAT'S IT LIKE TO DRIVE?
We headed over to Fiat's Balocco proving ground in Italy where we took it over some of the roughest terrains, as well as steep inclines and descents – and the way it took on the rough circuit was commendable. The three driving functions are: 'Auto' for normal driving conditions, where 98 per cent of the power is sent to the front wheels (unless slip is detected); 'Off-Road', featuring a torque-on-demand system sending power to the wheels that need it; and 'Hill Descent', which helps drivers travel down steep inclines with auto braking being activated.
WHAT DO THE PRESS THINK?
Auto Express said: 'With a pretty wild front-end design, improved approach and departure angles and a snazzy interior, the Fiat Panda Cross is Fiat's versatile take on its A-segment hatch.'
What Car? said: 'If you genuinely need a city car that you can take to the hills in at the weekend we'd recommend the 4×4.'
WHAT DO WE THINK?
In short, we loved it… off-road, that is. The Panda Cross offers a high degree of off-road capability and is comfortable when taking on the roughest of roads. But we do feel it lacks a little on-road – granted, buyers' heads will turn heads with its aesthetics but it just doesn't fare as well as some of its rivals in day-to-day driving. However, having taken it off-road we believe the fun customers will have in it off-road more than makes up for it falling short on-road. We would opt for the diesel variant at £16,945.