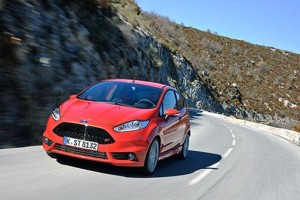 Ford's Fiesta ST has the looks but does it have the pace? Jon Reay reports
What is it?
The eagerly anticipated Fiesta ST – Ford's hottest supermini yet. It's got a bit of a reputation to live up to, as well, with Ford very keen to compare it to the fast Fiestas of yesteryear. Amazingly, the Blue Oval has already received 900 orders before the cars have even appeared in dealerships to be drooled over.
What's under the bonnet?
A version of the 1.6-litre 'Ecoboost' engine you'll also find in the Focus, C-Max and Mondeo – a rather good little turbocharged thing with 180bhp on tap. Ford says it's fiddled about with its settings to make it a bit feistier than in those, though, and it seems to have paid off.

What's the spec like?
Pretty good. There's two versions – ST (£16,995) and ST-2 (£17,995) – both of which have a DAB radio with SYNC, air conditioning, Thatcham Category 1 Alarm, 17-inch alloys and a pair of figure-hugging Recaro seats. ST-2 adds LED daytime running lights, heated partial-leather Recaros, Keyless Start and a Sony-branded stereo. That's on top of MyKey and a QuickClear heated windscreen.
What's it like to drive?
It's fantastic. For a start, it's amazingly easy – and fun – to drive quickly. The front end just grips and grips regardless of how hard you push, and everything from the gear change to the weight of the steering feels just right. Like the Focus ST, the Fiesta gets a sound 'symposer' (a big pipe that carries sound from the back of the engine) located behind the dash. The icing on the cake? When you're tired of thrashing around and settle down into Sunday driving mode, the Fiesta turns into a very refined car.
What do the press think of it?
Top Gear said: 'It's ace. Simple as that. And when the inevitable group-tests start happening with the Clio RS and 208 GTi, you won't be able to ignore the price.'
What do we think of it?
It's easy to wax lyrical about what a brilliantly executed package the Fiesta ST is, but that's not without good reason. The Fiesta itself is already an excellent car, and with 180bhp under the bonnet that fact becomes even more clear. It's sharp to drive, quick enough to be enjoyable, and from behind the wheel everything feels just right. On top of that it's got plenty of kit, looks great and shouldn't be all that expensive to run. In short, we can't think of anything else we'd want more for £17,000.