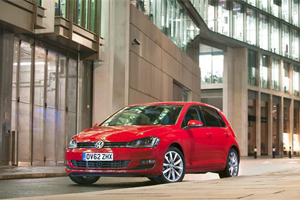 CLEANER, greener and lighter, the new Volkswagen Golf has arrived in the UK. Dave Brown has driven it.
What is it?
The new, seventh-generation version of VW's celebrated small family car and it's VERY impressive. It's longer, wider, lower and more spacious, yet lighter and more efficient than ever. It's all new – but VW says the car is all about evolution not revolution. So while instantly recognisable as a Golf (although the design of the body around the C pillar has been sharpened up), there are plenty of innovations beneath the surface. New production techniques contribute to Golf Mk7 being up to 100kg lighter than its predecessor, and a whopping 23 per cent more fuel-efficient.


What's under the bonnet?
At launch, a choice of four petrol engines and two diesel. Two of the petrol engines are 1.2-litre TSI units (producing 83bhp and 103bhp) while the other two are 1.4 TSI units producing either 120bhp or 138bhp. The latter has 'active cylinder technology' which deactivates part of the engine under certain loads, improving fuel economy and reducing emissions. The oil-burners are 1.6 and 2.0-litre units. Our pick was the 2.0-litre diesel, refined and nimble with plenty of mid-range torque.
What's the spec like?
Pretty good and there are plenty of add-ons. The S trim level (which starts at £16,330) includes body-coloured door handles, bumpers and mirrors, driver's knee airbag and electronic tyre pressure monitoring system. SE starts at £18,935 and adds brushed stainless steel inserts in dash and door panels and a leather-trimmed multi-function steering wheel. GT starts at £21,451 and includes gloss black decorative inserts in the dash and sports suspension, lowered by about 10mm.

What's it like to drive?
Very impressive. Minor niggles? Perhaps a couple of (dare we say it?) cheap-feeling plasticky bits in the interior of the 1.4-litre petrol car we drove, and it was foot-to-the-floor time to get the acceleration needed for one particular overtaking manoeuvre, but overall the new Golf is hugely impressive and represents a big step forward for VW's best-seller. As a couple of hacks on the press launch in Sardinia were heard to comment: "I'd spend my own money on that." Praise doesn't come any higher.
What do the press think of it?
What Car? said: 'The steering offers plenty of reassurance and the car manages to blend a comfortable ride with good body control.' The Sun commented: 'The Golf has an aura about it. There's nothing special in the way it looks but, somehow, everyone's impressed by it. There's something about the solid, simple lines that seems to reassure people.'
What do we think of it?
After nearly 40 years of producing the Golf, you might have expected Volkswagen to have got it right by now. Well, that's indeed the case. The magnificent seventh generation Golf delivers on all fronts. It's high-tech, super-safe and greener than any Golf has been before. We like.