WITH just five months to go until CDX16, our headline sponsors GForces have explained why they are delighted to be associated with the event once again.
We caught up with Tim Smith, the company's group strategy director, who told us: 'It may still be five months away, but we're already looking forward to the event.
'Anyone who attended CDX15 at Silverstone will remember the impressive line-up of suppliers promoting some pretty exciting products.

'We built the biggest display stand we've ever done and packed it full of digital media including touch screens, iPads and even a VR headset. Others had touring cars, racing simulators and giant Scalextric sets.
'Well, just like the event itself, in 2016 we're returning with something bigger – much bigger. Put simply, our stand is huge and will contain a vast array of technology and interactive features for delegates to experience.
'We're debuting some amazing new products and services which we hope will capture the imagination of those attending.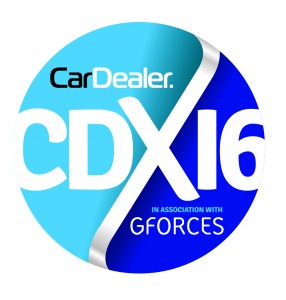 'Last year's Car Dealer Conference and Expo was the stand-out event for GForces in 2015 and we were proud to be a part of it. This year promises to be bigger and better – it's not to be missed!'

As Car Dealer reported last week, demand to be at the UK's answer to NADA has been amazing. Taking place on May 24, 2016 at the iconic Silverstone racing circuit, CDX16 is the BIGGEST retail motor Expo in the UK and will have:
More than 100 motor trade suppliers
Even more workshops to help you learn new tricks
A variety of inspirational speeches from leading keynote speakers
The biggest names in the motor trade at manufacturer and dealer level on the Car Dealer Stage
Networking opportunities at manufacturer dealer meetings
We've also had 35 exhibitors taking stands within a fortnight of them going on sale, with more inquiries coming in all the time.
And don't forget, we've got a fantastic competition running in which you could win a pair of tickets worth £399 to our Used Car Awards event next year simply by registering for free tickets to CDX16 before December 31. Yes, it's as easy as that!
Everyone who signs up for CDX16 this month will be entered into the draw for the two Used Car Awards tickets. The winner will be announced at the Silverstone event on May 24 and you've got to be at CDX16 to accept the prize from the Car Dealer team. If the winner isn't there, they'll go to the next name out of the hat who is. The tickets are only available for bona fide members of the motor trade – we'll be needing proof before we hand them over.
Make sure you sign up for CDX16 now. You just can't afford to miss it. And with the chance to win those valuable tickets to our Used Car Awards, the incentive is even greater.
MORE: Auto Trader to replace sales staff with advisors
MORE: Now dealers can access cash-for-cars market with new website
MORE: Close Brothers Motor Finance appoints credit risk advisor
On SuperUnleaded.com: Leh Keen hits the forests in Safari 911