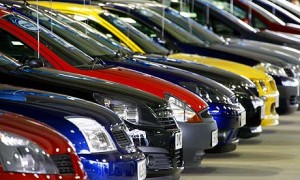 NEW car registration figures rose 5.6 per cent in the key plate-change month of September, the latest SMMT figures published today reveal.
A total of 425,861 cars were registered during the month, bringing the total number of cars registered so far this year to 1,958,196.
The figures make September 2014 the 31st consecutive month of growth in the new car market – and the biggest September since 2004.

Mike Hawes, SMMT chief executive, said: 'September's strong performance underlined the continuing robustness of the UK new car market, particularly in the context of last September's bumper volumes.
'Demand for the new 64-plate has been boosted by intensifying confidence in the UK economy, with consumers attracted by a wide range of exciting, increasingly fuel-efficient new cars.
'In the months since March – which saw an 18 per cent jump in registrations – the growth has shown signs of levelling off as the market starts to find its natural running rate, however.'
September and March – the two annual months of the plate change – together account for a third of the year's registrations.

The best sellers during September were the perennial front-runners from Ford. A total of 23,266 Fiestas were registered, as well as 13,508 examples of the Focus.
Making up the rest of the top ten were Volkswagen Golf (13,011); Vauxhall Corsa (12,506); Volkswagen Polo (10,312); Fiat 500 (9,122); Vauxhall Astra (8,861); Audi A3 (7,317); Peugeot 208 (6,968); and Nissan Qashqai (6,847).
At the Paris Motor Show last week, Ford's UK boss Mark Ovenden told Car Dealer how 'paranoia' keeps the Blue Oval at the top of the sales charts month after month. Read our exclusive story here.