HMRC has confirmed via Twitter that compulsory commission – those contracted monthly to be paid to salespeople – CAN be included for furloughed sales staff's wages.
Confirming to Lawgistics solicitor Nona Bowkis via Twitter today, the official channel of HMRC Customer Support, said that dealers should work out the amount of commission to be paid during furlough leave akin to the way they would usually work out annual leave payments.
So that includes any commission usually paid to sales staff including that for selling cars and aftersales products. The test here is commission paid to staff 'in normal trading conditions' and contracted. A contract can be verbal.
There has been doubt in the minds of dealers since the new guidelines came out from the government on furloughed staff's pay – with many dealers still refusing to include commission in furlough payments.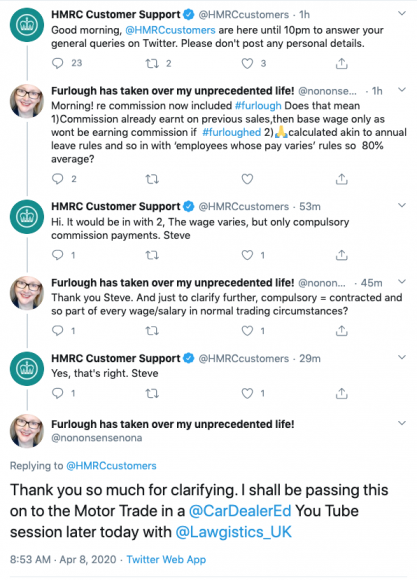 Despite experts from the large accountancy firms and solicitors confirming this was fine to do, Car Dealer received a deluge of calls from angry salespeople who had been told they would only receive their basic salary.
Dealers are advised to work out how much salespeople are paid by taking an average of their earnings over the last 12 months – or the same month's earnings from last year – whichever is higher, and pay 80 per cent of that up to £2,500.
The confirmation from HMRC will give car dealerships comfort and alleviate the stress many salespeople in the industry have been feeling since the announcements have been made.
Mike Jones, from ASE Global, said: 'I think the increasing clarification is really helpful. I can understand the caution from some dealers, because ultimately they have to put the calculation together, they have to claim the money and ultimately they're going to be audited by HMRC.
'They're going to need these staff back for a fast start, there's a lot of new cars that need to be delivered, used cars are still selling and we're going to need salespeople to do that. If we've got a disaffected sales staff from being on minimum wage, I think that could be quite dangerous.'
Since this post was written, there have still been a number of dealer groups who have refused to pay sales staff commission as they claim it is 'discretionary' and not 'compulsory' – something that rules it out as allowable under the furlough scheme.
However, as of today (April 17), the very latest opinion from legal experts Lawgistics was that this is wrong.
Their full reasoning as to why can be found in this article published on Friday, April 17.
Car Dealer Magazine interviewed experts from UHY Hacker Young, a leading motor trade accountancy firm on April 17 and they gave a full and frank opinion on whether commissions should be included in furlough payments.
What they said can be seen here – it was the first topic of conversation in the interview.
Article updated: Friday, April 17, 1807
Breaking news April 8 0937: HMRC confirms commission can be paid
Read the full government guidance here
More: Everything you need to know about furloughing staff
COMMENT: Why you SHOULD include commission in furloughed staff's wages