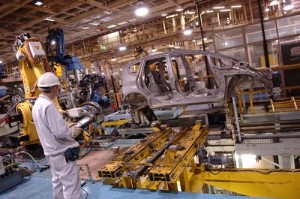 HONDA'S Swindon factory has been forced to suspend production because bad weather has delayed the arrival of parts at the plant.
A scheduled delivery did not reach the factory on Wednesday because container ships carrying the components were delayed by rough weather during their crossings.
The difficult conditions at sea affected shipments throughout Europe, including those heading for the port of Southampton, where Honda parts are taken ashore before being transported to Swindon.

The impact of the delays is not expected to have an effect on the company's profits and normal production is due to resume on Monday.
A spokesman for Honda added: 'The interruption will not affect customer orders either as the factory will recover the lost production over the course of the next few weeks.'
Because of the delays, staff working on production lines were sent home, but thanks to an agreement between the company and unions at the plant, they will recover the lost time and pay.
Honda's Swindon factory consists of two car plants, producing CR-V, Jazz and new Civic models, and an engine manufacturing facility. Other areas of the site are dedicated to a purpose-built test track, and administration and purchasing functions.