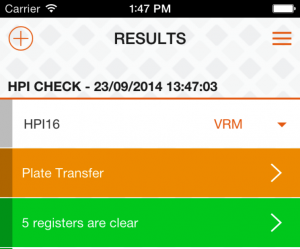 DEALERS can now conduct HPI checks wherever they are, with the launch of the company's new app dedicated to the motor trade industry.
Available on iOS mobile devices, including tablets and smartphones, customers can access HPI's vehicle data and provenance checks in the palm of their hand.
The free-to-download trade app includes HPI and ID Checks, as well as CAP Live, Glass's and Market Values Valuations, ensuring dealers can protect the quality of their stock and avoid paying over the odds.

The app also features the award-winning HPI Spec Check and NMR Check. Dealers can set preferences for optional elements locally on the device while the account holder maintains control of mandatory elements via their main account settings.
Results are clear and simple, with the benefit of being able to add extra valuations or spec data, if available. The last 100 checks remain on the device, allowing dealers to revisit previous results and recheck a vehicle. All checks made on an account, across all devices, are recorded in HPI History online.
Neil Hodson, managing director of HPI, said: 'With the launch of the HPI Trade app, we're ensuring our customers can benefit from our core services, whether they are at an auction or on their own forecourt viewing potential stock. Dealers on the go can now gain access to HPI checks with no additional cost, just added convenience to help them close more deals.'
The HPI Trade app is available for download now from iTunes. An Android version is coming soon.

MORE: HPI appoints new MD
MORE: HPI's warning for car dealers