HYUNDAI has revealed the brand new second generation i20 supermini.
Going head-to-head with the likes of the Ford Fiesta, Hyundai says the new i20 opens up the company 'to a wider audience', 'further develop perceptions of the brand' and confirm its position as 'a truly European automaker'.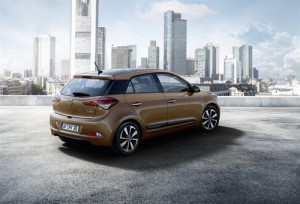 The new car has been designed and developed in Europe, is 45mm longer than its predecessor and has class-leading interior and boot space.

New technology includes a panoramic sunroof, integrated rear-view camera and front and rear LED lighting, while the styling forms part of Hyundai's 'Fluidic Sculpture 2.0' design philosophy. Key styling features include painted rear pillars – giving a 'floating roof' look – and a chrome-framed hexagonal grille.
The Korean company the new car will continue its success in the worldwide b-segment. Since 2002, Hyundai has clocked up almost one million sales in the sector.