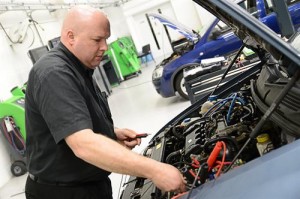 THE Institute of the Motor Industry is calling for the licensing of the retail motor trade – as new research reveals that 70 per cent of motorists believe it already exists.
The Institute, the professional organisation for people working in the motor industry, has also revealed that there is an underlying ignorance about the qualifications required for anyone to work on a motor vehicle.
Three quarters (71 per cent) of motorists surveyed by the IMI said they believed anyone working on a car commercially would need a licence to do so. In actual fact, there is currently no regulation of individuals in the motor industry.

Fifty-nine per cent of drivers said they wouldn't let anyone work on their car that didn't know what they were doing, but only 10 per cent knew how to check a technician's qualifications.
The IMI says UK consumers are completely unaware of how vulnerable they are.
Steve Nash, CEO of the organisation, said: 'The majority of motorists choose a garage or mechanic without sufficient information to verify their competence to do the job. This is a serious cause for concern.
'There is no industry-wide licence in place to ensure service technicians are properly qualified. And without the proper training, car mechanics are increasingly putting themselves and motorists at risk.

'By our calculations, there are 148,000 mechanics whose skills and current competence we cannot verify. It is vital that this issue is addressed as quickly as possible.'
The IMI is seeking meetings with the leaders of all the main political parties ahead of the General Election in order to push forward the case for licensing. It has also received the 'in-principle' support of several major companies and organisations. It's estimated that 90 per cent of the trade are in favour of a licensing scheme.
MORE: More than 2m MoT failures down to unsafe tyres
MORE: IMI reveals customers' top priorities for servicing
MORE: Car buyers are exercising caution, says Funding Corporation MD