NEARLY half of jobseekers are looking for a new challenge, and exactly 50 per cent value location over salary, a survey has revealed.
Motor industry job search site InAutomotive surveyed visitors of its website to discover what really makes them tick. Hundreds of active jobseekers were asked about their motivations, from money to desiring a more senior role.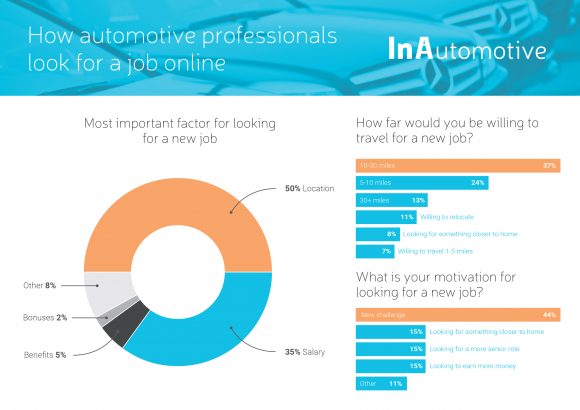 Of 206 people who responded to the question 'what is your motivation for looking for a new job?', 44 per cent said they were looking for a new challenge.

This dwarfed other responses, including looking for something closer to home, looking for a more senior role or more money, none of which exceeded 15 per cent.
355 people answered what's most important to them when looking for a new job, the second question in the survey.
When asked about the most important factor when looking for a new job, 50 per cent of the 355 who responded said that location was the most important factor for them. For 35 per cent, salary was the most important factor.
However, this doesn't seem to be evidence of a widespread desire to up sticks to somewhere new, as indicated by the third question – how far would you be prepared to travel for a new job?

The results of this third question – answered by 311 people – showed that most jobseekers were searching for a new role within 30 miles of their current residence, with just 11 per cent saying they would like to relocate.
MORE: Speedy acquisition sees Motordepot open site in Stoke
MORE: Panda Motors Swansea wins SAIC Overseas Dealer Award
MORE: GAP insurance intervention by FCA fails to have as big an impact as expected