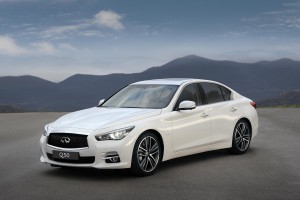 NISSAN'S premium marque Infiniti is all set to steal a share of the luxury car sector thanks to new models and a refocused strategy.
The Japanese company aims to launch three new models, increase the brand's worldwide perception and sell 500,000 Infinitis by 2020.
Speaking to Car Dealer, Nissan's executive vice president Andy Palmer said Infiniti has a strong future within the Renault-Nissan Alliance – and there's no chance it'll be axed.

'If we're going to take a share of luxury car segment, we've got to do it properly,' he said. 'We are in the long game with Infiniti.'
Palmer explained that with 50 per cent of automotive profit lying in the luxury car segment, there are great gains to be had by focusing on it.
But Infiniti will not reach those goals by using the strategy it has used in the past.
'We once sold a car called the Infiniti G20 which was basically a rebadged Nissan Primera,' Palmer told us. 'In hindsight, that was not a good idea.

'Our cars need to be as good dynamically as BMW's models, but they should differ in style. We need to be more evocative with the way our cars look.'
Topping the list of new product is the firm's first foray into the premium c-segment. Announced in December last year, Infiniti's new premium hatchback will be built at Sunderland and will be positioned uniquely.
'We really see a good place for a car spanning the space between the Audi A3 and the Audi Q3 crossover,' said Palmer. Two more products, the new Q50 and the USA-only QX60 hybrid, will help 'draw a line' under the old Infiniti brand.
Palmer points to Audi as a direction Nissan is taking with Infiniti.
'Unlike other German luxury car brands, Audi has very successfully moved into it and moved away from being just another Volkswagen-owned brand. Infiniti will always be separate from Nissan – a point we have clearly made by moving Infiniti's headquarters to Hong Kong,' explained Palmer.
But where next for Infiniti? Will the company focus on the small premium sector or concentrate its efforts on the large premium market?
It's very much the latter, says Palmer. 'We could go smaller than the new hatchback,' he told us, 'but I think we should be focusing on the large luxury market.
'Other luxury car brands can go smaller because they've got brand cache. We need to focus on building the brand and that is why whenever we launch Infiniti to a new market, we reveal the FX (Infiniti's large, flagship SUV) first.
'But I think we need to go larger, not smaller. It won't be in the BMW 7-Series sector because that segment is diminishing, but we need to go larger to build the brand.'
Have you filled in our Car Dealer Power survey yet? It's a great opportunity to have your say, and you could win one of seven great prizes! Click here to enter.