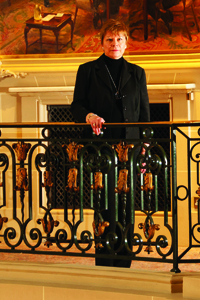 New citroen CEO Linda Jackson tells Leon Poultney why she's so sure this ground-breaking new car will be a big hit with British buyers.
You're a Brit going into a very French company. Do you see that as a challenge?
I see it as an opportunity. I've been asked that question a lot of times and it's normally linked with being British and being a woman, but I don't think it makes any difference whatsoever. The company has changed dramatically over the 10 years I have worked for Citroen; it has become a lot more international. I could never have imagined a British person, let alone a woman, being in charge 10 years ago but we have changed dramatically. Don't get me wrong, I think my appointment will bring changes, because Anglo-Saxon people have a slightly different way of approaching things – the French are very creative and are very good at coming up with ideas but the Anglo-Saxon influence adds a bit more direction and decision-making. Hopefully I can bring that feeling to the role.

The French hold Citroen very close to their hearts. Do you think there will be pressure from the public now a British person has stepped in?
I hope not. I hope they will see it purely for the fact that I do a good job. Like I said, I've been with Citroen for 10 years. Cut me in half and I have the chevrons running through me like a stick of rock! I hope that they see that the renewal of Citroen is something very positive.
What changes do you plan to implement?
First of all, we want to get Citroen back to what it is good at, which is producing great cars with great design. Look at the new C4 Cactus – it is a design that stands out and it's something we've been very good at doing. But at the same time, we want cars that are comfortable, affordable and not cluttered with loads of technology the drivers will never use. For me, it will be about setting these values and making sure they run through everything we do in the future.

What is your short-term plan?
We really have to bed in the Citroen C4 Cactus and the new Citroen C4 to make sure they are successful and well received. The philosophy behind these two vehicles will form the basis of everything to come, so it is very important they go down well with customers and the media.
Do you think the C4 Cactus could be a game-changer for Citroen?
I hope so, and if you read some of the articles written about this car and the feedback we've had, it is all so positive. It has been lauded for standing out and being a bit different. It isn't the same as other cars on the market. I'm certain the C4 Cactus will be a success in the UK.
Will the new car signal a shake-up at dealer level?
No, definitely not. We had a dealer conference earlier in the year and I made it very clear that we have a solid network plan. We stated that we want to have 200 dealers and we already have 189, so there's no desire at all to change it. We have excellent coverage and great sales people already and we have just introduced our new corporate identity that's clean and modern. The new product will only add to the buyer's experience by injecting even more colour and vibrancy.
Find out more about Citroen's latest model, the C4 Cactus, here