CAR Dealer Magazine and Close Brothers Motor Finance have joined forces to put together an exciting new event for dealerships with a need for speed.
The Car Dealer Go-Karting Challenge will see dealerships competing against each other in 90-minute endurance races, with regional supremacy and a chance to compete in the national final on the line.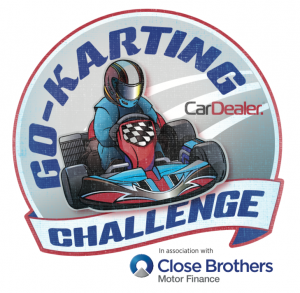 All events will take place at superb indoor karting tracks operated by TeamSport Karting.

Twelve teams of four drivers will compete in each regional qualifier, and thanks to backing from Close Brothers, there are no entry fees.
The regional rounds begin on October 24 at TeamSport's Leeds venue, for northern dealers to test their mettle. Next up, the showrooms of the south will get the chance to do their stuff at Eastleigh on November 21. In the new year, Basildon will play host to the third qualifier on January 23, and the last localised round will take place on February 20 in Bristol.
At each event, the top two teams in the 90-minute regional qualifiers (and a couple of other top-performing teams) will be awarded a slot in the grand final at Reading on March 28.
The winners of the final will have proved themselves to be the fastest kart racers on the forecourt! We want to have a fun, competitive set of races and we hope you'll want to take part, so read on to find out what you need to know!

Questions and answers
What time will the racing take place?
Teams will need to arrive at the venue before 7pm. Free parking is available at every track. Before the race begins at 8pm,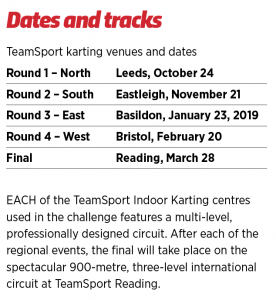 there will be a mandatory drivers' briefing and a 15-minute practice session, which will allow you to get used to the layout, the kart and the pitstops.
Who can drive?
Every driver in your team needs to be a part of the motor trade – no professional racing drivers will be allowed to race, nor any non-motor traders. If you are not able to put together a team of four from your own staff, you can combine with other local dealers. As long as they work in the motor trade, they can be part of your team!
Will I need any gear?
No. TeamSport provides helmets, race suits and gloves at each track, so there's no need to buy any gear you don't have. Will there be prizes? Yes! There will be a podium ceremony at each regional round and a trophy for the winning finalist next year.
How do I sign up?
Any dealership can apply to enter this spectacular free event by emailing us at this address: [email protected]. The names of teams will be drawn out of a hat at random for each regional qualifier. You will be informed if your entry has been successful.
How long do we have to sign up?
Sign-ups for the opening round in Leeds must be submitted by October 5. All following rounds will be closed for entries at the end of the month prior to the event.
Close Brothers Motor Finance backing the action
Close Brothers Motor Finance is the proud sponsor of the Car Dealer Go-Karting Challenge. The leading finance company's sponsorship has ensured that it can happen without the need for dealer entry fees. 
Sean Kemple, director of sales for Close Brothers Motor Finance, said: 'The aim of our business is to help dealerships sell

more cars to more customers more profitably, providing true expertise to our dealer partners and their customers.
'We achieve this through our regional branch network and over 8,000 strong dealer partnerships. Sponsoring the Car Dealer Go-Karting Challenge allows us to reward and thank dealers for their support.  
'This nationwide competition will give dealers in all corners of the country the chance to let their hair down for a fun, competitive evening of racing action with Close as their hosts! We look forward to seeing dealerships big and small forming teams and coming to race with us and Car Dealer Magazine!'
Andy Entwistle, managing director of Blackball Media, said: 'Setting up the Car Dealer Go-Karting Challenge has been a dream of mine for a couple of years. Having Close Brothers Motor Finance on board has enabled it to become reality and it is a great name to be sponsoring this fantastic challenge. 
'I know that this event is going to be great fun, and will hopefully become one of the most anticipated challenges on our events calendar.'