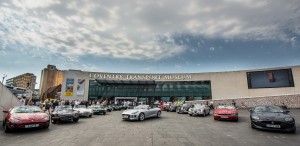 JAGUAR Land Rover has confirmed a £400million investment in Coventry where it plans to more than double the size of its headquarters.
This new venture will see a new research and development plant built on a newly acquired 62-acre site next to JLR's already huge 55-acre headquarters.
The expansion is part of a three-stage project, according to the Coventry Telegraph, with two other manufacturing plants to open in other areas of the city. It is expected to create an estimated 4,000 new jobs with 7,000 to 11,000 predicted indirectly.

Jaguar Land Rover's chief executive officer Dr Ralf Speth said: 'Our expansion at Whitley will help ensure the sustainable growth of Jaguar Land Rover, with the development of ultra-low emission technologies.
'Design leadership, technical innovation and engineering excellence lie at the heart of this responsible business and we are committed to investing in the skills needed to continue this success into the future. Great people and great products are the essence of this great British company.'
Jaguars were the last cars to be manufactured in Coventry and ceased production there in 2005 and locals hope this will mean a return to manufacturing glory for the city.
Coventry councillor Ann Lucas told the Telegraph: 'Once again our city is set to become at the heart of the renaissance of motor manufacturing, and I'm so proud they've chosen Coventry to play such an important part in their plans for the future.

'This is potentially game changing for Coventry and its people, and the beginning of a new and exciting era for us.'
MORE: Rogue Jaguar dealership jailed for five years
MORE: Fast food chain's CEO will take the reins at Halfords
MORE: Familiar faces launching a new trade-to-trade website
On SuperUnleaded.com: When things go badly wrong in the workshop