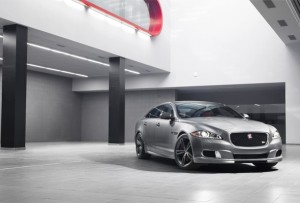 JAGUAR dealers will soon have a hot XJ at the very top of the range, with the firm revealing details of the monster saloon ahead of the New York Auto Show.
Sitting at the top of the range, the XJR marks the 'dynamic flagship' of Jaguar's saloon line-up, with the XJ the last car in the firm's lineup to receive the sporty 'R' badge.
Equipped with a 5.0-litre supercharged V8, the XJR pumps out nearly 550bhp, making it on par for power with the firm's crazy XKR-S coupe and convertible.

Details of the XJR's performance are yet to be announced, but it should be suitably quick – with the XJ's current top-end model, which uses the same engine but outputs 40bhp less, managing 0-60 in 4.7 seconds.
It's also likely to be the sportiest XJR yet. Reports suggest that the R will have a hardened chassis all of its own, likely to have been designed to offer a greater balance of handling versus comfort against the standard car.
It's also a big break from the XJR of old which, while powerful, looked a little last-century inside and out compared to its German rivals.
'The new XJR epitomises the three pillars of technology, performance and contemporary design which the Jaguar brand stands for in the twenty-first century,' said Adrian Hallmark, global brand direct for Jaguar, 'while delivering new levels of dynamic ability in a luxury saloon.'

Few details have been revealed so far – Jaguar issuing little more than a teaser image – but the XJR will make its official debut at the New York International Auto Show next week.