Here's your motoring, business and news round-up for Tuesday, June 23
Motor industry calls for restart support package
The UK motor industry has called for a dedicated restart package, amid warnings the coronavirus crisis has put one in six jobs at risk.
A third of automotive workers are still furloughed, and with the government's job retention scheme coming to an end later in the year, there is a critical need to safeguard jobs, according to the SMMT.

More than 6,000 UK automotive job cuts have been announced in June as a result of lockdowns, closed markets and shuttered plants, while a member survey from the SMMT has indicated that up to one in six jobs are at risk of redundancy. Read more here.
Pubs and cinemas to re-open in latest lockdown easing
Boris Johnson is to set out plans to allow pubs, restaurants, museums and cinemas to begin re-opening in the latest easing of the coronavirus lockdown in England.
The prime minister is publishing the government's keenly-awaited review of the two-metre social-distancing rule today, amid widespread expectations it will be cut to one metre.

He will brief the Cabinet on the proposals – due to take effect from July 4 – before setting out details in a Commons statement.
Nissan faces legal action over alleged 'defeat devices'
Up to 100,000 petrol Nissan Qashqai cars and more than a million other diesel Nissan and Renault vehicles could be fitted with prohibited 'defeat devices', a law firm has claimed.
Harcus Parker said it has obtained documents which show the 1.2-litre petrol Qashqais breach emissions limits by up to 15 times when driven on the road.
Lawyers also allege they have seen independent test data indicating that as many as 1.3m diesel vehicles manufactured by Nissan and Renault may also be fitted with devices designed to cheat emissions tests. A spokesman said: 'Nissan strongly refutes these claims.' Read more here
Average current account balances have increased
Current account customers were holding 11 per cent more in deposits typically at the end of May compared with before the coronavirus lockdown, according to data from a major bank.
Halifax said average current account balances were up when compared with the end of February.
Despite pay cuts, furloughing and job losses, people may possibly be holding more in their accounts because they are cautious about spending, while they may also have had fewer opportunities to spend as businesses have been closed.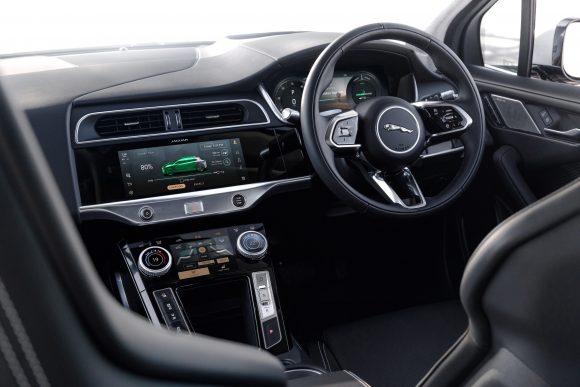 Updated Jaguar I-Pace revealed with new infotainment system
Jaguar has revealed the updated I-Pace with a new infotainment system and faster charging.
The updated version of the British firm's electric SUV now gets an 11kW charger as standard, upgraded from the previous model's 7kW charger. It means about 33 miles of range can be added per hour from a home wallbox, while a full charge takes eight hours. 
The major upgrade is in the cabin with the addition of Jaguar's new Pivi Pro infotainment system. The I-Pace has a twin-touchscreen system, with a 10-inch upper and five-inch lower screen that can also be controlled through a haptic rotary controller.
Shoppers to English high streets up 51 per cent
The reopening of non-essential retailers, including clothes shops and department stores in England led to a 51 per cent surge in customers heading to the high street, new data shows.
Last week the number of shoppers was understandably up compared with the week before, but still remained at historic lows, according to Springboard.
Across all UK retail destinations, footfall was up 45 per cent despite Wales and Scotland keeping non-essential stores closed.
London Stock Exchange chief named next Financial Conduct Authority boss
Nikhil Rathi has been appointed the next chief executive of the Financial Conduct Authority (FCA).
He was unveiled by Chancellor Rishi Sunak and replaces interim chief executive Christopher Woolard, who took charge in January after former boss Andrew Bailey was appointed Governor of the Bank of England.
Mr Rathi is expected to join in the autumn and will leave his current job as chief executive of the London Stock Exchange.
Ofgem says energy suppliers may restart chasing some debts
Energy suppliers may start chasing some unpaid bills that were put on hold during the initial impact of the coronavirus crisis.
Ofgem chief executive Jonathan Brearley said in an open letter to supply companies and others: 'We recognise that suppliers cannot extend unlimited credit to customers – nor is this in customers' interests overall – and we anticipate suppliers will begin to restart debt management activities that may have been paused during the immediate crisis.'
The letter said that companies still need to take people's circumstances into consideration – and aggressive debt collection will not be tolerated.
Markets remain cautious
Traders started the week cautiously as hopes for reduced social distancing measures kickstarting the economy were weighed up against rising cases of coronavirus in some countries.
The FTSE 100 closed the day down 47.98 points, or 0.76 per cent, at 6244.62, in line with other European rivals including the French Cac down 0.67 per cent and German Dax down 0.65 per cent.
Pub groups had a strong day, though, with investors hopeful that the government will confirm plans to cut social distance guidance from two metres to one today.
Britain braced for heatwave as temperatures climb into mid-30s
The country is braced for a June heatwave as temperatures are set to climb into the mid-30s this week.
The hottest day of the year could be recorded several times over as the mercury climbs towards 34 degrees in the south of the UK by Thursday.
However, the record for the hottest June day ever looks set to remain intact, as temperatures will not quite reach the 35.6c seen in 1976.
Coming up this week on Car Dealer Live we have: 
Today: Magna Motor Group director Tony Roberts
Wednesday: Lipscomb Cars MD Peter Barnes
Thursday: Peter Quinn, Emerald House of Cars
Friday: Sophus 3's Scott Gairns
Yesterday's round up: Spike in car crashes; Pub reopening plans; Firms pay up to hackers; Tui holidays back
Watch yesterday's Car Dealer Live below