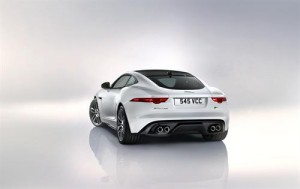 IT'S the car Jaguar fans have been waiting for – a successor to the E-Type fixed head coupe.
Arguably stealing the lime-light at the LA Show, Jaguar has revealed the sister car to its F-Type Convertible – the Coupe.
Just like the drop-top, the Coupe will be available in standard and S guises, all powered by the British firm's characterful supercharged 3.0-litre V6.

And for fans of Jaguar's range of hardcore products, the F-Type Coupe will be also available as an R variant and will use a 542bhp version of Jag's 5.0-litre supercharged V8.
Along with featuring a strong dose of classic styling, the Coupe will also use a second-generation version of Jaguar's Electronic Active Differential to change the way the car behaves at the limit.
The range will start at £51,235 for the Coupe, £60,235 for the S Coupe and £85,000 for the R Coupe.
Read what we thought of the F-Type by downloading our free iPad app here