THE LEVC TX electric taxi is now officially available to buy from Glasgow's first franchised LEVC dealer.
LEVC Glasgow, which opened yesterday at Taggarts Motor Group's Volvo showroom in Hillington Park, will be the new home of the LEVC TX in Scotland's most populous city.
With around 20 TX electric taxis already operating across Glasgow, the appointment of an official dealer will further support the adoption of zero-emission-capable taxis, says LEVC.

Gary Bowers, the first taxi driver in Glasgow to take delivery of a TX last year, said: 'The most surprising thing about the TX is the savings on maintenance and fuel.' Overall, he estimates he has already saved 'several thousand pounds' maintaining the vehicle and regularly saves at least £75 per week on fuel.
On-board wifi, phone and laptop charging are all included, effectively making the taxi a mobile office. In addition, the more spacious and comfortable interior includes six seats and class-leading forward-facing wheelchair accessibility, while a panoramic roof plus active and passive safety systems complete the package.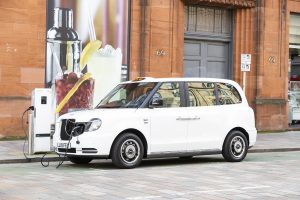 The official arrival of the LEVC TX in Glasgow comes as Scotland invests heavily in improving air quality and encouraging the adoption of electric vehicles. Glasgow City Council has already begun to implement its electric vehicle strategy, with £625,000 awarded by Transport Scotland to develop an existing charge point network, consisting of more than 100 charge point locations.
Derek Muir, head of business at LEVC Glasgow, said: 'We are delighted to announce the opening of our new LEVC Glasgow business operating from our Volvo showroom in Hillington. Our dedicated team are on hand to provide information on the amazing technology behind the TX.'

LEVC sales, marketing and aftersales director Steve Cootes said: 'We very much look forward to working with Derek and the team at LEVC Glasgow to deliver our purpose-built, electric taxis into the west of Scotland.
'So far, we have had some really good feedback on the product from drivers in Scotland, with reported savings of around £100 per week in fuel – in addition to the added comfort and smoother ride.'
Pictured at top from left are LEVC Glasgow service manager Steven Gibson, head of business Derek Muir and head of sales Roger Buchanan
MORE: Taggarts agrees exclusive remarketing deal with BCA
MORE: Arson attack at North Lanarkshire Land Rover dealership causes £850,000 damage