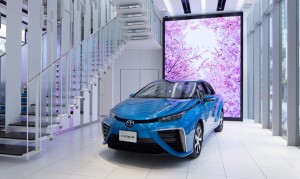 TOYOTA has long been a pioneer of new energy sources and the new Mirai will be no different. The car maker premiered the hydrogen fuel cell car at the Geneva Motor Show earlier this year and will this week open a futuristic showroom within a hydrogen station in Tokyo. 
There will be one Mirai on display and another available for test drives at this minimalistic showroom. According to Toyota, the showroom will use videos and other media to raise awareness about the features of the vehicle as well as the benefits of hydrogen and more.
Mirai uses the Toyota Fuel Cell System which uses both fuel cell and hybrid technologies. This means drivers can expect the same levels of convenience as offered by petrol engine vehicles, with a generous cruising range and a hydrogen refuelling time of about three minutes.

The hydrogen power station is operated by the Iwatani Corporation in Tokyo's Minato Ward. The space will serve as a hub for sharing information on fuel cell vehicles and hydrogen, with the aim of promoting a hydrogen-based society.
MORE: Honda is awarded 'most reliable manufacturer' for the ninth consecutive year
MORE: FREE legal advice from Lawgistics at Car Dealer Conference & Automotive Expo #CDX15
MORE: Volvo showrooms to have a bright new look

On SuperUnleaded.com: We Played With A BMW i8 For A Week, Here's Our Favourite Bits