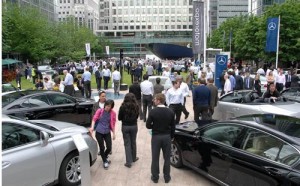 THE UK's largest free motoring event, Motorexpo has retuned for one week only.
Running until Sunday, June 16, this year's show in London's Canary Wharf is expected to generate a record turnout of 460,000 visitors, who will browse and interact with the huge range of cars on show.
Taking the limelght at this year's show will be a number of UK motoring event debuts, including Jaguar's sporty new F-Type two-seat convertible and the all-new Range Rover Sport.

Additional show premieres include the Infiniti Q50 premium saloon, BMW i3 electric concept car, Seat Leon SC, Skoda Superb, Lotus Exige S and Jeep's new Grand Cherokee.
This year's Motorexpo will welcome the event's widest-ever range of exhibiting car brands with Aston Martin, Bentley, Ferrari, Lamborghini, McLaren, Maserati and Porsche all attending.
They will be joined by prestige carmakers including BMW Mini, Jaguar, Land Rover, Lexus, Mercedes and Volvo, and popular cars from Chrysler, Kia, Seat and many more.
Graeme Carver, CEO of Motorexpo, said, 'Motorexpo grows in stature every year, demonstrated in 2013 with a record number of manufacturers and display vehicles.  We've made the show even more interactive so that visitors will be able to get up close to, and in many cases drive some of the best cars currently available in the UK.

'That we are hosting so many UK motoring event vehicle debuts and two high profile industry events underlines the growing status of Motorexpo.'