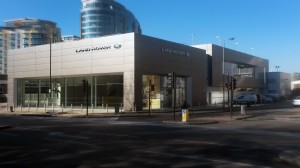 THIS is the new Land Rover showroom which opens in Battersea tomorrow.
Car dealer and servicing group Lookers today unveiled details of its major multi-million-pound investment – and the creation of 30 new jobs in its new Land Rover business – with the opening of the state-of-the-art showroom.
The custom-built suite is the first Land Rover facility of its kind to be built in the UK.

The company said the cutting-edge facility on Lombard Road, which opens tomorrow (Saturday), will provide unprecedented levels of comfort and an unrivalled buying experience across two floors.
Lookers said its newest car retail facility was its most modern and 'green' yet, incorporating the very latest cloud technology which would enable its staff to more freely interact with their customers and up to 24 Land Rover models at any one time – including the soon-to-be released Discovery Sport – on permanent display.
The new Battersea Land Rover showcase building also includes new purpose-built lounge areas which comes complete with free WiFi, PlayStation consoles and games.
The new location will have 70 staff on site in sales and service roles, almost double the headcount based at its previous local base. The showroom, which is 40 per cent larger than its predecessor, boasts a sleek, modern and contemporary interior and exterior of black rain screen cladding and a structural glass exterior – a guaranteed focal point only metres from the River Thames.

Gordon Haining, Land Rover franchise director at Lookers, said: 'Our significant investment in this stunning, iconic showroom will allow us and Land Rover to maintain our position as the leading lifestyle marque in London and the Home Counties from this strategically-positioned Battersea base.
'The investment, and the creation of a newly-expanded, dynamic and experienced team, marks another major milestone in the development of our business.'
Land Rover dealer principal Andy Amiss said: 'As one of UK's most popular, premium car brands, Land Rover deserves a showcase space which reflects all its key features – innovation, style and quality – and we're immensely proud to have delivered on our promise to make this new market-leading showroom a reality.
'Lookers' Battersea Land Rover showroom now offers customers an exceptional breadth of choice and a unique brand experience in an environment that really will impress.'
MORE: New jobs created at Bentley HQ
MORE: James Bond's new car is revealed
MORE: Dates announced for Goodwood's Festival of Speed and Revival