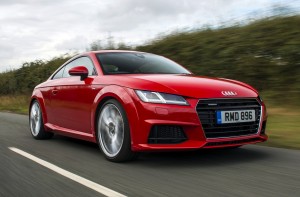 JUST when you thought there were no niches left to fill, no types of passenger car yet to create, Audi announces it is to increase its product offering by 20 per cent over the next three years.
Currently, the brand offers no fewer than 50 model variants across its range of 12 cars, though the Ingolstadt brand has confirmed this is to grow with the addition of 10 brand new model types.
Audi is currently the largest premium manufacturer in the UK and is looking to press home its advantage over rivals BMW and Mercedes Benz by bringing even more metal to showrooms.

It is remaining tight-lipped about what exactly we can expect, though models at both ends of the range are likely, including a new sub-compact model and a flagship four-door coupe, expected to be called the A9, which will sit as a more sporting alternative to the current range-topping A8 saloon.
This isn't just a case of making up the numbers, either. The new models represent a 22 billion euro investment by Audi in its research, development and manufacturing facilities.
More information will be revealed at next month's Los Angeles motor show.
In the meantime, Audi fans can excite themselves with the prospect of a hot RS version of the striking new TT coupe. While it is officially yet to be confirmed, the recent announcement of the forthcoming RS3 hatchback, with its five-cylinder turbocharged engine, means it is increasingly likely there will be performance TT model sharing the same hardware. 'It's a fairly safe assumption,' teased an Audi spokesman.

MORE: Thieves swipe Audis worth more than £100,000
MORE: German brands dominate Auto Trader searches
MORE: 'Help us mark our move to new premises'