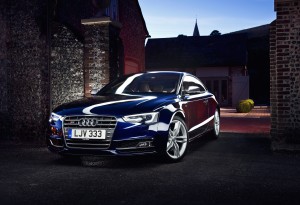 TWO new high-performance cars worth more than £100,000 were stolen from an Audi dealership in Aberdeen.
The Audis, a red RS5 worth £60,000 and a blue S5 worth £43,000, were taken from the John Clark Motor Group in Abbotswell Road about 11pm on September 12.
The S5 is said to be distinctive because of its black panoramic sunroof and two-tone black-and-silver sports interior. Both cars were unregistered and didn't have number plates when the theft took place.

The Aberdeen Press and Journal reported that the thieves broke a large concertina doorway to gain access to the cars in the main atrium of the dealership.
Chris Clark, business development director for the dealership, was on holiday at the time of the theft and he told the Press and Journal: 'I was very disappointed and somewhat shocked but you have to look for the positives and at least they were new vehicles and had not already been bought by customers.
'We are looking for any help from the public and we are constantly working with the police to help with their investigation.
'We want the cars back, no matter what condition they are in.

'If they have been sold on to a customer, clearly they will not be damaged, but if they have been used for another job, that might not be the case.'
Police Scotland are appealing for anyone who has seen the vehicles or may have any information regarding the incident. They would also like to speak to anyone who may have been in the vicinity of the garage at the time.
Anyone with information can contact police on 101, or Crimestoppers on 0800 555 111 if they want to remain anonymous.