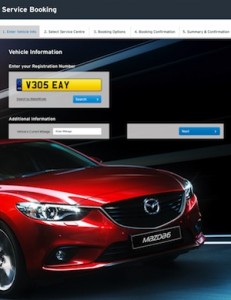 MAZDA is one of the first manufacturers in the UK to launch a new online service booking system on dealer websites.
The new service is incorporated into the re-launched dealer websites that went live earlier this week and will allow customers to book cars in for servicing, MOT and repair work at their own leisure.
Similarly, in the forthcoming weeks, the new service will also feature a tyre fitting service, which Mazda says will put them high on internet tyre searches.

The optional online tyre package means customers can key in their registration number and all available options for their car will automatically be listed.
Although the websites are based on a template from Mazda UK, each and every site is unique to its dealer. This allows Mazda UK to centrally upload details of national campaigns and will ensure they go live nationwide at the same time.
Meanwhile, Mazda's dealers are free to enter stock and local offers onto their site at any time and will have the ability to upload their individual available time slots to manage their workshops.
Mazda UK aftersales director, David Wilson-Green, said: 'Research shows that more than 80 per cent of customers want to book their car in to a dealer online, so that they can do it at their convenience. This will be a feature across all dealer websites.

'It's all about building loyalty through customer convenience. Mazda dealers can supply tyres at very competitive prices and given that tyres are often the first thing that drivers go elsewhere to buy, it is essential we promote our offering to make customers aware.'
Another optional element to the dealer website service is 'live chat' designed to speed up the response times to customer queries.
Wilson-Green added: 'The automotive industry is notoriously slow in response times on the internet – some dealers don't respond at all.
'We're focused on quicker response times and are working on how to categorise issues to make sure customers get the right response.
'We need to give our customers a richer multimedia environment which includes online and interactive tools, while giving the option to use their preferred method of communication.'