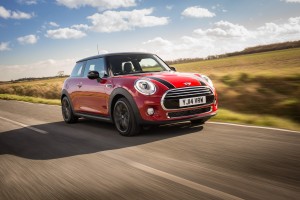 MINI has the best residual value performance in the UK, while Chrysler is the worst-performing manufacturer, according to a recent study by Glass's.
Glass's has taken a look at the UK automotive landscape and provided a top-34 ranking of manufacturer performance by residual value – with Mini, Land Rover and Toyota taking the top three spots respectively.
The company analysed each model at four milestone ages – one, three, five and seven years.

Mini, operating within a classically high-RV performing sector, was helped to the top of the rankings by its desirable image. Strong brand perception, increasing refinement of luxury off-road vehicles and ever-improving fuel efficiency saw Land Rover grab second place.
At the bottom of the heap are Chevrolet and Chrysler in 33rd and 34th positions – with poor performance blamed on the way these brands are perceived by consumers.
Andrew Jackson, head of analytics at Glass's, said: 'Residual value is the cornerstone of the industry.
Overall performance
'It considers the universal facets of a vehicle, positive and negative, and distils them in to one figure. And it is this figure that people use to measure the overall performance of a car over time.'

But what makes a good RV? It's a balancing act of many factors that all manufacturers aspire to perfect. But the one thing that drives residuals the most
is desirability – by segment, from perceived build quality to driving dynamics and everything in between – and it is this desirability that saw Mini, Land Rover and Toyota fare so well in this league table.
Jackson said: 'These top three reflect just how diverse the driving forces behind RVs can be. Mini is popular due to being a premium brand offering small, efficient fun cars to drive.
'Land Rover however is very popular due to the prestige of the brand coupled with the nascent nature of the off-road segment.
'Meanwhile Toyota manufactures the majority of its vehicles in the B, C and 4×4 segments and targets the rational buyers' market as opposed to the premium.
'Likewise, the bottom of the list reflects the difficulty a brand can have when either being built to a budget or suffering from a lack of public credibility.
'Perception is reality,' said Andrew. 'If people believe a car is desirable, it will be perceived as being so, it will build a good reputation and hold a strong residual value.'
Manufacturer performance by residual value
The percentage figure represents the average depreciation rate
Mini -16.4%
Land Rover -17.0%
Toyota -17.5%
Honda -17.9%
Volkswagen -18.3%
Smart -18.6%
Jeep -18.8%
Audi -19.5%
Seat -19.6%
Skoda -20.3%
Nissan -20.3%
Mercedes-Benz -20.6%
Kia -20.8%
Suzuki -21.0%
Mitsubishi -21.3%
BMW -21.5%
Mazda -21.5%
Ford -21.8%
Lexus -22.1%
Subaru -22.3%
Fiat -22.3%
Volvo -22.4%
Citroen -22.5%
Hyundai -23.2%
Jaguar -23.2%
Peugeot -23.2%
Vauxhall -23.5%
SsangYong -23.5%
Perodua -24.6%
Renault -24.7%
Alfa Romeo -24.8%
Proton -26.1%
Chevrolet -26.3%
Chrysler -26.6%