THE MINI Cooper was the fastest-selling used car in January 2018, according to figures from Auto Trader.
The 2017 petrol manual version of the hatchback was the fastest-selling used car last month, taking an average of 17 days to be snapped up from dealer forecourts.
Joint second place on the national top 10 list went to the 2016 diesel manual Fiat 500X and the 2015 diesel manual Nissan Qashqai, both of which took an average of 27 days to sell in January.

Without a doubt, hatchbacks were the victorious class of car last month, with seven of them on the top 10 list and nine of the thirteen regions featured having on at the top of their lists.
Despite the current circumstances surrounding diesel cars, the fuel type had a solid start to the year, with four making their way on to the national top 10 list and and seven topping the regional tables.
The 2014 diesel automatic BMW 5 Series was top in the East Midlands, the 2014 diesel automatic Volkswagen Golf in London, the 2017 diesel automatic Volvo XC60 in the north-west, the 2014 diesel manual Hyundai ix35 in Northern Ireland, the 2016 diesel manual Fiat 500X in Scotland and the West Midlands, and the 2017 diesel manual Nissan Qashqai in Wales.
The Auto Trader Retail Price Index indicated that diesels are not only holding their value, but are actually seeing growth. The average price of a used diesel in January 2018 was £14,405 – £777 more than the same month in 2017. This suggests a three per cent growth.

Auto Trader says that dealers who used its i-Control data management solution took an average of 37 days to sell a car last month – 53 per cent faster than those that aren't signed up to the programme.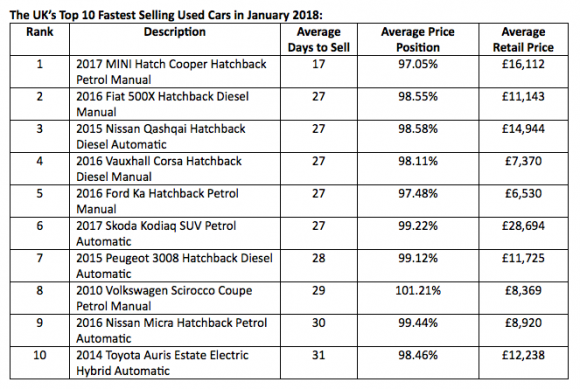 Karolina Edwards-Smajda, retailer and consumer products director at Auto Trader, said: 'The start of the new year is always a busy time for the industry, and while it will face some challenges in 2018, the year ahead holds some exciting opportunities for retailers, not least an expanding used car market, increased used car finance and the growing popularity of AFVs.
'To navigate these challenges and to successfully capitalise on the opportunities available, the ability to manage and read your data will be key.
'Using data, alongside your own experience and expertise, to understand what cars are the most desirable in your area, and how to price them based on the live retail market, will not only help you stand out in an increasingly competitive marketplace, but also to drive trust amongst today's car buyers.'
MORE: Ford Ka was UK's fastest-selling used car in October, says Auto Trader
MORE: Auto Trader head of motor finance takes up new role at Contract Hire And Leasing
MORE: Auto Trader takes step towards offering consumers complete online finance
On Workshop: Schaeffler and Liqui Moly combine to reduce timing chain wear