MOTORPOINT is aiming to become Scotland's most dog-friendly car dealer.
The UK's largest independent car retailer, which is based in Hamilton Road, Glasgow, recently partnered with Dogs Trust in the city.
And to celebrate, it is to host a Doggy Day on Sunday, October 28 between midday and 4pm to raise awareness of the work of the charity, as well as give dog owners an opportunity to meet behavioural experts, vets and groomers.

There is also a chance for them to put their dog through a special exercise programme in the branch. In addition, it has a dedicated soft play area in the showroom so customers can leave their dogs while they browse round cars.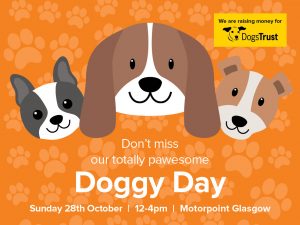 Every person who goes to the Doggy Day will also receive a limited edition Motorpoint 'Doggy' bag containing treats, toys, and a complimentary seat belt harness for dogs. Drivers are required by the Highway Code to suitably restrain their dog while driving, and failure to do so can attract a fine of up to £5,000 for careless driving.
Adam Gilmore, general manager of Motorpoint Glasgow, said: 'We are on a drive to become Scotland's most dog-friendly dealer, and as part of our support for Dogs Trust we've decided to host a special Doggy Day this weekend. It promises to be lots of fun for the dogs and their owners.'
Motorpoint opened its new-look Glasgow showroom in mid-August. It took more than two months to create and boasts a boutique-style Moto Café, where customers can choose from a selection of hot and cold food, info points for surfing the internet, and a Kids' Zone.

MORE: Motorpoint forecasts nine per cent revenue growth for half-year 
MORE: Motorpoint teams up with Clyde FC to help drive football club forward
MORE: Still Games stars open new-look Motorpoint Glasgow showroom