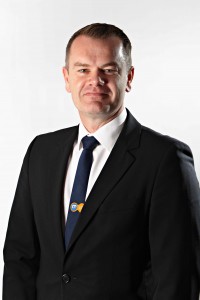 MOTORPOINT is hoping to power demand for electric cars by offering savings on a range of plug-in hybrid vehicles.
The UK's largest car supermarket, with seven sites across the UK, is offering its customers savings against new of more than £18,000 on the Chevrolet Volt. It is currently selling the Chevrolet Volt [Auto] five-door with sat-nav for £18,799.
The eco-friendly hatchback features 17-inch alloys, climate control, cruise control, parking sensors and perforated leather seating. It also returns 234mpg and thanks to its 27 g/km emissions it's exempt from both road tax and the congestion charge.

Also likely to create a surge in demand for electric vehicles is the Vauxhall Ampera Positiv five-door auto. The Electric Car of the Year for 2012 is on offer at Motorpoint with over £16,000 worth of savings against new, for £17,999.
Motorpoint also has the Toyota Prius 1.8 VVTi Plug-in 5dr CTV Auto [Leather] for £19,999 – a saving of more than £15,000 against new.
Mark Carpenter, pictured, managing director of Motorpoint, said: 'We're delighted to be able to help power demand for electric hybrid cars in the UK by offering savings of over £18,000 on some of the most popular plug-in models on the road today.'
Motorpoint has seven locations in Birmingham, Burnley, Chingford, Derby, Glasgow, Newport, and Peterborough. The company also operates a UK-based call centre which sells more than 900 vehicles each month.