AS NADA, the National Automobile Dealers Association (NADA) convention and expo, was the inspiration for Car Dealer Magazine's own groundbreaking CDX show, we've once again been on a fact-finding mission to the USA to see how we can improve for CDX17 on May 23rd.
This year is a very special anniversary for NADA, marking 100 years since the trade body was founded at a meeting in Chicago. This year's show is being held at the Ernest N. Morial Convention Centre at New Orleans, Louisiana. The remarkable venue is over a kilometre long, has a total of more than 100,000 square metres of expo space and served as one of the most important shelters for survivors in the aftermath of Hurricane Katrina in 2005.
In typical Car Dealer style, we're in New Orleans bright and early as the doors opened on January 26, a day ahead of the expo proper, and already we're learning that the US car dealer is experiencing a number of the same issues as their UK counterparts.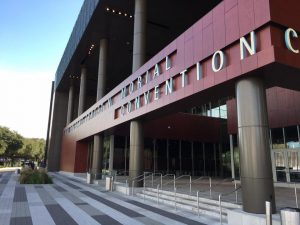 The US car market has, much like the UK, been very buoyant over the last five years. However, the general feeling is that this year is going to be much more difficult.
There is already evidence of a reduction in used car retail values, people extending their replacement cycles and an increase in the number of dealers closing, this does suggest that the challenges we are facing are not just a localised issue as a result of Brexit and the change to car tax, but rather the world economy softening.
There are three major factors that are starting to impact car dealers in the USA, and we think all these are likely to be felt in the UK.
Firstly an increase in used car supply will have a negative impact on dealer margins. The number of used cars available on the market in the USA fell from a high of 82 million in 2008 to a low of 62 million in 2012 as a result of the global financial crisis in 2008 and the subsequent reduction in new car sales.

Although this meant stock acquisition was more challenging, the positive impact was that unit profit increased by nearly 50 per cent to nearly $2,400 (£1,900) per unit. However, the recent buoyant market is having the reverse effect, which means that competition will be greater when selling and impacting profit.
Also coming into focus is 'disruption', where a retail model is fundamentally challenged and changes, in effect killing the old guard much in the same way Netflix's model destroyed Blockbuster. In the USA, the new car retail market has not seen significant disruption, but with 75 per cent of car buyers polled in the USA saying that they would be happy to take the whole thing online, it's something that may affect them in the near future.
Key to this is the third factor, that consumer behaviours are changing. Recent analysis has shown that car buyers are now visiting an average of just 1.2 dealers when buying, down from four dealers just ten years ago. This means that they have done all of their investigating – usually online, where they're 'clicking tyres, not kicking tyres' – before they end up at the dealer and the dealer must convince the buyer that they are the person to deal with and their car is the one to buy.
We'll be heading into the expo tomorrow as the doors open. More than 23,000 delegates are expected to visit the show over the four days, with in excess of 3,000 international delegates. There are more than 20 franchised dealer meetings and nearly 200 workshop sessions scheduled, covering more than 60 topics.
CDX17 will take place on May 23rd, and you can find out more information and register for tickets here.
MORE: Ford Mustang scores disappointing two stars in Euro NCAP tests
MORE: Aggressive dealer told to pay more than £5,000 after treating customers unfairly
MORE: BCA's new multi-million-pound Birmingham site now officially open
On SuperUnleaded.com: Truck Gets Smashed To Bits By Train After Crossing Signals Fail