BMW'S latest plug-in hybrid model will mate a new, larger petrol engine with an electric motor and provide up to 50 miles of zero-emission electric range.
Based on the latest X5 and catchily badged xDrive 45e iPerformance, the new model follows on from the xDrive40e iPerformance available on the previous-generation X5. Where that car used a 2.0-litre petrol engine, though, BMW has decided that good things aren't always to be found in small packages and has replaced it with a 3.0-litre straight-six twin-turbocharged unit.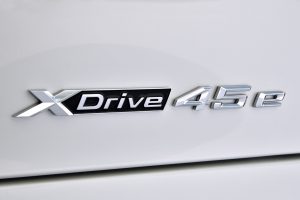 The petrol engine develops 282bhp on its own and is paired with a 110bhp electric motor for a total system output of 389bhp. That's enough to propel the weighty X5 from 0-60mph in under 5.6 seconds – more than a second faster than its predecessor.

Electric range has increased, too. The 45e is capable of around three times more distance on electric power alone than its 40e predecessor, at 50 miles. The car's top speed is 146mph, while maximum speed in electric mode is now 87mph rather than the 76mph of the 40e.
Power is put to the road through an eight-speed automatic gearbox and sent to all four wheels – as you'd hope on a chunky SUV such as this. Don't expect off-road performance to match a Range Rover, but BMW says the new X5 is far better on the rough stuff than its predecessor yet still retains 'sporty driving pleasure on the road'.
Carbon dioxide emissions dip below the crucial 50g/km – the threshold at which the X5 is classified as an ultra-low emissions vehicle in some European markets. BMW claims a fuel economy figure of 134.5mpg, although this is of course highly dependent on driving conditions and the length of the journey.
MORE: Outrage as government pulls plug on grant for hybrid cars

MORE: BMW warns that pre-tax profit, revenues and margin will be down
MORE: BMW schedules Mini plant's annual maintenance work for straight after Brexit